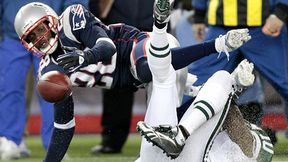 AP Photo/Charles Krupa
Darius Butler vs. the Jets.Cornerback Darius Butler reacted to the New England Patriots' decision to waive him Tuesday, saying he expected something to happen.
"I didn't know how it would work out, a trade or release. I'm not really surprised by it," he said. "Things weren't working out with me and the team. It's not really a shocker. You can kind of see the writing on the wall sometimes. It was best for both parties."
Butler, a 2009 second-round draft choice, got the news directly from coach Bill Belichick.
"That's really the only person in there you need to talk to. He basically told me how he felt about me as a player and a person, and why they were making the move. The details of conversation will stay between me and him," Butler said. "The Patriots are a classy organization. I'm thankful to Mr. Kraft and Coach Belichick for giving me an opportunity."
Butler's career took a U-turn after the first two games of the 2010 season, when he opened the year as a starter but was benched after the second game, a 28-14 loss to the Jets in which he had trouble with receiver Braylon Edwards. He never got the job back, with former undrafted free agent Kyle Arrington seizing the opportunity.
"It kind of went downhill [from there]," Butler acknowledged. "I never faced that kind of adversity when it came to sports, being benched. I just was not playing up to the level I expected to, and the level the team expected. Not seeing the field as much as last year, that was tough."
Butler said one of the highlights of his time with the Patriots was playing close to where he attended college, at the University of Connecticut. Butler is from Florida, but called New England his "second home." He also talked about playing with some of the NFL's "greats" and being coached by Belichick, who he called one of the "greatest" in his profession.
Butler sensed his time with the team might be coming to an end, but took pride in not altering his approach.
"Even with the feeling that something could have happened, or was likely to happen soon, I never changed my work ethic or how I went into work every day," he said. "I'm ready for a fresh start, a fresh place, a fresh everything. I'm not down by any means. I'm just ready."