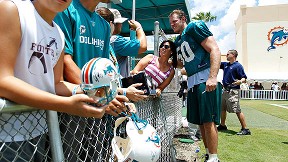 AP Photo/J Pat Carter
Linebacker AJ Edds with Miami.The Patriots have claimed and been awarded former Miami Dolphins linebacker A.J. Edds on waivers, a league source confirms.
The 6-foot-4, 244-pound Edds played at Iowa along with current Patriots rookie Jeff Tarpinian. He was a fourth-round draft choice of the Dolphins in 2010 and spent his rookie season on injured reserve after tearing his ACL in training camp.
Edds, who is considered a versatile linebacker, led the Dolphins with 18 tackles this preseason, while adding a sack. He also has experience as a snapper, an area the Patriots have had instability this preseason.
In explaining the decision to waive Edds, Dolphins coach Tony Sparano said the team simply had too many linebackers. "We had 10 linebackers on the roster at that particular time and we weren't going to carry 10 linebackers right at that time," Sparano said.
By waiving cornerback Darius Butler, the Patriots open a roster spot for Edds. If the Patriots finalize the signing of tight end Dan Gronkowski, they would have to create another roster spot.
The news was initially reported by Brad Biggs of the Chicago Tribune.
EXTRA POINT: Here is an article on Edds from the Palm Beach Post from earlier in the preseason.