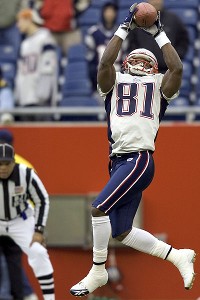 Bernie Nunez/Getty Images
Former Patriots WR Bethel Johnson goes up for a catch.
The NFL's season-opener between the New Orleans Saints and Green Bay Packers didn't disappoint. That was a fun game to watch, with one of the unexpected stars Packers receiver Randall Cobb.
Cobb tied former Patriot Ellis' Hobbs' NFL record with a 108-yard kickoff return for a touchdown -- a terrific individual effort that combined great balance and burst-- and also had a 32-yard touchdown in which he actually ran the wrong route (Milwaukee Journal-Sentinel link here). Cobb's performance had me pulling out the Pro Football Weekly draft guide to read more about him; the Kentucky receiver slipped to the last pick of the second round (64th overall) and looks like a real find.
Cobb's impressive debut led me to revisit Bill Belichick's history drafting receivers, which is one area Belichick would probably acknowledge he could do better work. It's been a long time since he's developed a young receiver into a top contributor.
Here is the breakdown from this perspective:
Nailed it
Deion Branch (second round, 2002)
David Givens (seventh round, 2002)
Missed it
Bethel Johnson (second round, 2003)*
P.K. Sam (fifth round, 2004)
Chad Jackson (second round, 2006)*
Brandon Tate (third round, 2009)
Jury still out
Julian Edelman (seventh round, 2009)
Taylor Price (third round, 2010)
* Traded up to acquire
(Note: Matthew Slater, now a team captain, was considered a special teams player over a receiver in this analysis.)