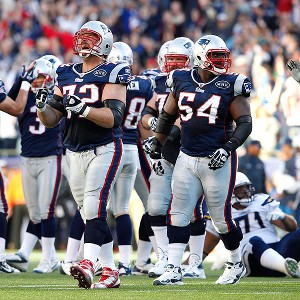 David Butler II/US Presswire
The Patriots' offensive line, including Brian Waters (54), drew high praise from the coaching staff.
The Patriots' offensive line has been the center of heavy conversation in the days leading up to the team's first two games. But the lack of attention on gameday suggests the unit is getting the job done and it's hard to argue with their efforts given New England's offensive outbursts in wins over Miami and San Diego.
In Week 1, the pregame focus was on whether veteran Brian Waters could make the move to right guard and how rookie Nate Solder would fare starting in place of injured Sebastian Vollmer. Before San Diego came to town, everyone wondered if Dan Connolly could step into the center role (for injured Dan Koppen) and there was much chatter about Vollmer returning to the lineup and how the Patriots would employ a tackle rotation.
Patriots offensive coordinator Bill O'Brien offered nothing but rave reviews for the line play thus far.
"I thought the whole offensive line played a very good, tough game against a very good San Diego front," O'Brien said during a conference call with the media on Tuesday. "Dan [Connolly] was definitely a part of that. [Offensive line coach] Dante [Scarnecchia] does a great job of mixing guys in, making sure that they all play multiple positions and get reps at each position. It actually really starts with Bill [Belichick]. We bring a lot of multiple position guys into the organization and that's who we have right now. We have five, six, [or] seven guys who all work really well together, and that's showing up on the field. Hopefully that continues."
O'Brien also showered Waters with praise, particularly given the learning curve he faced after being signed just days before the start of the regular season.
"We're obviously impressed with Brian, his whole demeanor and the way he handles himself," said O'Brien. "He's a pro's pro. He's come in here, picked [the playbook] up quickly for somebody who wasn't here. I think being in Kansas City with [former New England offensive coordinator] Charlie [Weis] with the communication and the terms, [helped him]."