OAKLAND -- What did Patriots rookie running back Stevan Ridley see on his third-quarter touchdown run?
"Green grass, man, and a lot of it," he said with a big smile.
For all the green inside of O.co Coliseum, it tends to be a sea of black and silver on gamedays. The green chairbacks are quickly masked by members of Raider Nation and the green grass on the playing field tends to get filled up by actual members of the Raiders. So when Ridley burst through the right side of the line early in the second half Sunday, he was almost stunned by the space he found.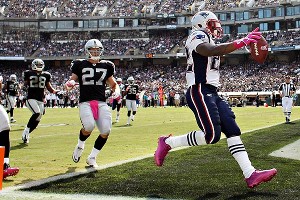 Ezra Shaw/Getty Images
Patriots rookie Stevan Ridley scores a third-quarter touchdown against the Oakland Raiders.Ridley picked up key downfield blocks by Brian Waters and Deion Branch, muscled his way through safety Tyvon Branch and raced to a 33-yard touchdown, his first NFL score, and one that helped propel the Patriots to a 31-19 triumph.
Ridley finished with a game-high 97 yards on 10 carries. In the most extensive action of his young NFL career, Ridley outshined Oakland's Darren McFadden (75 yards, 14 carries) and what was the league's top-ranked rushing offense.
Like any young running back that knows what's good for him, Ridley heaped praise on the guys up front.
"[The holes were] huge, man," said Ridley. "The offensive line did an awesome job. Like I said, those were the biggest holes I've ever seen in my life. So I just had to keep running and hit them at full speed."
Maybe the only disappointment for Ridley was that he couldn't punch in another score with two opportunities inside the Raiders 2 late in the fourth quarter. But it did little to temper New England's efforts on the ground, which saw the team pile up 183 yards and two scores on 30 carries (a glossy 6.1 yards per trot).
When Danny Woodhead tweaked his left ankle late in the first half, Ridley's carries went up. He touched the ball four times on the first drive of the second half -- three carries and a short pass -- and his long touchdown run put the Patriots out front, 24-10.
Ridley said he didn't know that the running game would have such a big role this week, but said the coaches had stressed generating more balance.
"With our coaching staff, they're going to get it right each week," he said. "We know that. Going into each game, they're going to have the best plan on the field. So whatever they ask us to do -- if it's more run one week or more pass another -- we have to go out there and execute what they want us to do.
"I'm just trying to make the most of my opportunities -- just do my part and pull my load."
And keep finding green grass.