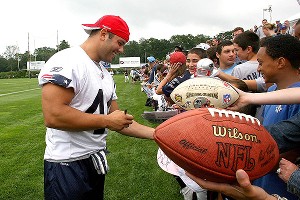 Jim Rogash/Getty Images
Eric Kettani signs footballs during training camp.The Patriots have an unexpected opening on their practice squad, as Eric Kettani -- the former Navy fullback -- has been called back to the USS Klakring. The news that he has been denied leave from the Navy has created a mix of emotions for him.
"I love my country and I'm happy to serve it, but I'm also happy to be a New England Patriot," Kettani said tonight.
Kettani is scheduled to fly out at 6 a.m. Friday, so he said goodbye to coaches and teammates today.
"I think some of them were shocked. Coach Belichick said he'd help me out in any way possible," Kettani relayed.
Kettani, who is appealing the decision, was surprised at the turn of events, in part because former Lions linebacker and current Indianapolis Colts practice squad player Caleb Campbell (Army) and Eagles practice squad receiver Chad Hall (Air Force) have had the opportunity to continue their playing careers.
Kettani was told he was being called back because this is a time of war.
As for how this affects the Patriots, they have BenJarvus Green-Ellis, Danny Woodhead, Stevan Ridley and Shane Vereen as running backs on the active roster. Kettani added depth, and this could lead the team to target another running back/fullback-type for the practice squad.
Ian Rapoport of the Boston Herald initially reported that Kettani had been denied leave.