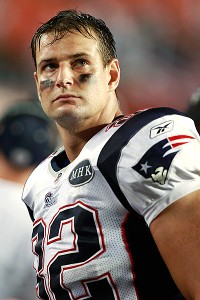 AP Photo/Wilfredo Lee
Patriots tight end Dan Gronkowski.
FOXBOROUGH, Mass. – When the Patriots signed Dan Gronkowski on Sept. 7, they created the first tight end brother tandem in franchise history. The Gronkowskis, Dan and Rob, are the fourth set of brothers to be on the Patriots' active roster together.
Dan played the first two games of the season, then was released for three weeks while he recovered from a hamstring injury. He returned Oct. 11 and is hoping to stick around for the long-term.
Dan has served as the team's third option at the position, mostly in a blocking role in the 49 snaps he's played. He has not been targeted with a pass.
In speaking with him for this week's "football journey", his appreciation for playing with his brother stood out.
When he first started playing football: "Eighth grade, but that was short-lived by a broken ankle. So it was mostly in high school that I started. I was a quarterback all the way into college, before switching positions."
Why the switch to tight end: "I just wanted to get on the field faster. It definitely worked out."
Top memories from Williamsville North (N.Y.) High: "Our school was a little smaller than all the others and we were in a big conference. You think back to winning some big games, playing with friends. It's an all-around team in high school, everyone playing for each other. That's what stands out."
Growing up in Western New York: "We lived in the suburbs [outside Buffalo]. Our street was all boys. You had families of three boys … two boys … then us with five boys. Everyone was hanging out every single day, just playing. It was a lot of fun."
Attending University of Maryland and playing football: "It was really my only offer besides the University of Buffalo. I wanted to go to a bigger school and they gave the opportunity. I went to camp there a couple times."
Why the limited interest from colleges: "I think it's the whole Buffalo area, which is a little behind in football. Even when I got to college, I was behind and it took me a couple years to catch up. I think all my brothers kind of went through that, except Rob, because he's basically just a freak [laughing]."
Top memories at Maryland: "Playing in bowl games, being able to go different places, and meeting a lot of friends there, doing college things. In football, the last year, I was able to catch some more balls (29) and run around and make some plays."
Entering the NFL as a seventh-round pick of the Lions: "It was awesome. Toward the end of the day, I didn't know if I was going to get drafted. They brought me in and gave me an opportunity, and really coached me up even though there wasn't much of a spot for me. They helped me improve."
Ronald Martinez/Getty Images
Gronkowski with the Broncos.
Being traded to the Broncos in 2010 at the end of training camp: "I was excited, then got thrown right into the mix. It was one of the craziest times in my life, a good opportunity. I had a good year. I learned how to be a professional, how hard it was to wake up every single day and learning a whole new offense and the time that took. It was probably the hardest couple months in my life, staying up all day, learning the new stuff."
Being released by the Broncos and signing with the Patriots: "I had no idea what was really going on in camp. I thought they were just resting me, but they decided to release him and brought in a few younger guys. But it's turned out to be the best thing right now, coming here and playing with my brother and a great organization."
Any other free-agent workouts after being released: "No, I did not. It's just crazy how it all worked out."
Playing with the Patriots: "The offense, when it comes to formations, is very similar to what we did in Denver, because of Josh McDaniels. There are some new concepts here, but I knew the basics of how to line up and stuff, so it was learning from there, which isn't too big of a process."
Playing with his brother: "Awesome. We just hang out together all the time. All my brothers, we're best friends, so when we're around each other we hang out. Not many people get to experience this, so we're having fun with it."
Role models in his career: "I feel like I've always had good people around me, from my dad to my coaches, and my mom. Everyone has been a positive influence. I never looked up to athletes, more the people around me."
Favorite team growing up: "We were big hockey players, so the Buffalo Sabres. We collected all the hockey cards. We were Bills fans also, but that's sort of wiped out of my memory right now, at least for a while [laughing]."
Favorite football players growing up: "Just the Bills' players. Jim Kelly, Thurman Thomas and all those guys."
Favorite hockey players growing up: "Pat LaFontaine, Alexander Mogilny ... any of the Sabres."
Summing up his football journey: "Just hard work and putting in the time, and you have to be persistent. That's where my career is right now. Hopefully I catch a good break and stick with the team, putting up some numbers and helping the team."
How he'd describe the Patriots: "This team brings in guys who you can tell want to be here, who work hard and all get along with each other. Everyone around here, it's just different here. Good environment. I could go talk to anyone on the team and it's a good conversation."
(Editor's note: To read last year's "football journey" with Rob Gronkowski, click here.)