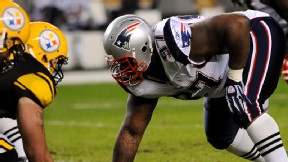 George Gojkovich/Getty Images
Patriots defensive lineman Ron Brace wouldn't mind seeing the Steelers again.FOXBOROUGH, Mass. -- Patriots third-year defensive lineman Ron Brace figures the conversation will come up later this week and, if the coaching staff says they need him in Pittsburgh for a Week 8 clash with the Steelers, Brace already knows his answer.
"I'd say I got my suit right here in my locker," Brace said with a smile.
After nearly 10 months of inactivity following an elbow injury in a Week 16 win in Buffalo last season, Brace returned to the practice field last week. Not surprisingly, he's still knocking off rust, but he also notes he's feeling good on the field and will be ready to contribute whenever the coaching staff decides to elevate him to the active 53-man roster.
Brace -- along with fellow defensive lineman Brandon Deaderick and running back Kevin Faulk -- sat out the first six weeks of the season on the reserve/physically-unable-to-perform list before returning to practice last week. The Patriots had up to three weeks from that point to activate each player, or more them to season-ending injured reserve.
For Brace, the question isn't so much if he'll return to the active roster, but when.
"It's been going good [at practice]," he said. "I had 10 months off since I've been in pads, so every day I'm working on getting better, making goals for myself. Everyone else has experienced training camp and the prior six weeks of the season. So it's basically trying to catch up with everybody."
Brace said he's put the elbow injury out of his mind, figuring if would only make him play tentative and risk re-injury. His face lights up when he talks about getting to deliver his first hit after the long layoff.
"I don't even remember who it was, it's hard to see through these facemask," said Brace. "But that was really the biggest thing. With this position, it was just to see if I could still hit. That first hit, nothing popped, so it's all good."
As for the inevitable conversation about whether he's ready to return to the gameday roster, Brace said there won't be any butterflies when he gets called into coach Bill Belichick's office.
"It's more of just an anxious feeling now," said Brace. "I've had time for butterflies for the past six week. Those butterflies are dead and gone."
Patriots defensive captain Vince Wilfork, the anchor the line, said the Patriots are confident in whoever the coaches trot out on the line.
"If their number is called, they have to be ready to answer the bell," said Wilfork. "I just don't know where we stand with that. That's probably a question better suited for Bill [Belichick]. Whoever Bill puts us out there with, we have confidence in them. That's how it's going to be."
[For more on Brace's potential impact, hop HERE to check out our film vault series].