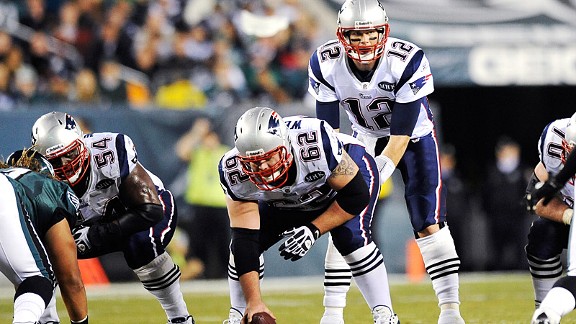 Patrick McDermott/Getty Images
Ryan Wendell (62) got a little help from Brian Waters (54) in his first career start at center.The center-quarterback exchange is so easy to take for granted despite how important the sequence actually is. Now remember that Patriots fourth-year offensive lineman Ryan Wendell made his first career start at center Sunday night in Philadelphia, a daunting proposition, especially considering the intimidating noise level inside Lincoln Financial Field.
To ease his duties, the Patriots employed a subtle, but somewhat unique approach in Sunday's game. During shotgun snaps where the team operated with a silent count, veteran right guard Brian Waters would stare back at quarterback Tom Brady until he got the sign that the offense was set, then he would tap Wendell with his left arm to initiate the snap.
Patriots coach Bill Belichick admitted it's a new wrinkle and clearly one aimed at easing the load for reserve centers like Wendell and Dan Connolly after starter Dan Koppen was injured in the first half of the season-opener against the Dolphins.
"We started doing that a little bit this year," said Belichick. "We've done it before with our center looking back and did a little bit this year with the guard tapping so that the center doesn't have to look back. We do it both ways."
It's one of those little game plan items that goes largely unnoticed, but speaks to the preparation level of the Patriots. It also shows the confidence the team has in someone like Waters, who is playing a relatively new position this season as well after spending 11 years at left guard with the Kansas City Chiefs.
Wendell, who started in place of Connolly (groin injury) on Sunday, performed well and aided an offensive line that limited Philadelphia's vaunted pass rush to just one sack. But Belichick would offer no hints about whether Connolly might slide back in at center once healthy.
"We have a lot of confidence in Ryan, I'm sure we'll be fine if he's in there," said Belichick. "We'll see what he's able to do, where Dan's at when we get to [the first practice of the week on] Wednesday."
Quizzed on who would have been the backup center had Wendell gotten injured on Sunday, Belichick wouldn't divulge.
"We'll see what happens this week," he said. "We'll go through our options and figure it out."