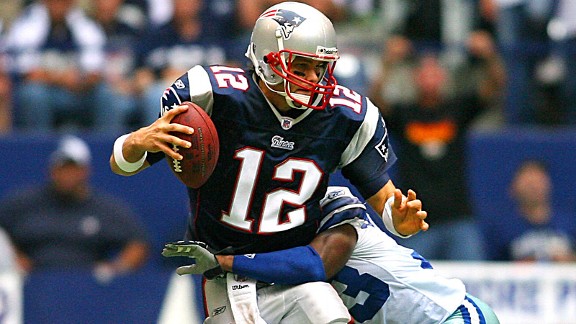 Tim Umphrey/Getty Images
Newly signed cornerback Nate Jones sacks quarterback Tom Brady in a 2007 game vs. the Cowboys.FOXBOROUGH, Mass. -- The Patriots brought in veteran cornerback Nate Jones Wednesday, one day after releasing Phillip Adams. So what can Jones provide that Adams couldn't? Versatility jumps out while examining his career contributions.
The 29-year-old Jones, a seventh-round pick (205th overall) of the Cowboys in the 2004 draft, has appeared in 101 games over an eight-year career. In 2010, he registered a career-high with 57 tackles while being utilized as both a safety (playing both free and strong positions late in the season for the Broncos) and slot corner. For a Patriots team that craves flexibility -- especially at two positions currently thinned by injuries to Devin McCourty and Patrick Chung -- Jones' ability to bounce between multiple spots, and contribute on special teams (59 career special teams tackles; has returned a handful of kicks) suggests he has a bigger chance to contribute to the gameday roster.
A couple things jump out about Jones' stats: He has twice as many career sacks (6) as interceptions (3) and both the Cowboys and Dolphins utilized him as a blitzer out of a nickel package. Heck, no one knows better than Brady, who got sacked by Jones during a 2007 meeting in Dallas (see the photo above). He's also forced three fumbles during his career.
Here's a glimpse at Jones' coverage stats the past four seasons, courtesy of analytical site Pro Football Focus:
JONES AT A GLANCE
An article from the Denver Post in August of 2010 highlights Jones' versatility:
He is the first-team nickel corner. And a second-team safety. He's on nearly every special-teams play, a gunner on punt coverage and a key component on the kickoff units. He's Nate Jones, the Broncos' jack-of-all-trades.

"He brings the kind of versatility that you look for," coach Josh McDaniels said. "We always talk about, the more you can do, the better opportunity you have to make the team and the more you can help us on game day."
And his off-the-field versatility might be even more impressive:
Jones was a finance major at Rutgers and has continued to be involved in business throughout his seven-year NFL career. He spent the 2005 offseason working for Merrill Lynch and completed the NFL's business management program at the Harvard Business School in 2006.

His most recent venture took him to Los Angeles, where he and a business partner tried to launch a television show called "Jock Itch," a sitcom based on two former high school football teammates moving to Los Angeles together.

"I like to hang out in L.A., get some production stuff going on. I try to keep a lot of stuff under wraps till they happen. It's just a lot of fun stuff to do in the offseason and it keeps the wheels turning," Jones said. "I like to be a part of good ideas, and I like to see things come to fruition. Any time you can be part of something — an idea, a production, a business. I like to be a part of things that come alive."
Coach Bill Belichick and the Patriots are clearly fans of Rutgers products. He'll be paired in a backfield that includes a fellow Scarlet Knight in McCourty. New England signed former Rutgers receiver Tiquan Underwood last week, while defensive end Alex Silvestro is on the practice squad.