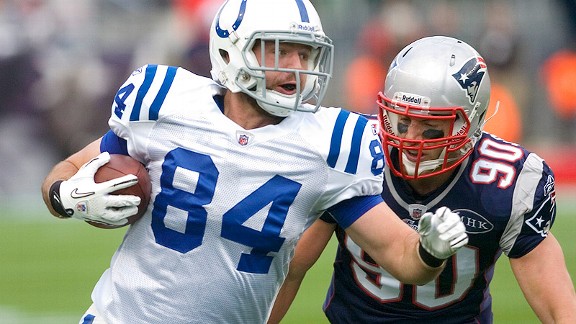 Tom Croke/Icon SMI
Niko Koutouvides made an impact at linebacker Sunday vs. the Colts.FOXBOROUGH, Mass. -- It's been more than two years since Niko Koutouvides played a defensive snap. He spent the first nine weeks of the 2011 season without a team. Yet there he was starting at middle linebacker for the Patriots on Sunday against the Colts, pairing up with Jerod Mayo to make a tackle on the first offensive play of the game.
It'd be more of a surprise if it wasn't becoming the norm around here. Players often arrive with a reputation for playing only in the kicking game and soon get thrust into important defensive roles. Heck, New England's starting lineup Sunday featured two other "special teams standouts" in safeties James Ihedigbo and Matthew Slater.
Koutouvides registered six tackles against the Colts, including one on special teams. He knows his reputation suggests a player that might only be on the field for emergency defensive snaps, but he was ready to contribute at his assigned position on Sunday.
"I take pride in what the coaches ask me to do. Yes, I made my bones in this league by playing special teams, but if you're here on the 53-man roster, you gotta be prepared to play the position you were brought in to play," said Koutouvides. "You never know when someone goes down. Obviously, what coaches ask me to do, if it's special teams, it is. Or if it's defense -- or if it's both -- I'm here to play my role."
A former fourth-round pick (116th overall) of the Seahawks in the 2004 draft, Koutouvides -- a native of Plainville, Conn. -- has spent his first six years in the league with three teams (Seattle, Denver, Tampa). Earlier this week, the coaching staff hinted to him to be ready for potential defensive snaps.
"During the week we all rotate in there, I just focus on what I'm supposed to do. Whatever the coaches ask of me, obviously, I gotta be prepared," he said. "That's how I did it -- just like every week -- you never know who's going to go down. If someone gets hurt early, or someone gets hurt late, you always have to be ready to play your position."
Or any position. On the final play of the Colts' first offensive series, a running back split out wide, forcing Koutouvides to line up at what amounted to outside corner. He stuck close and provided solid coverage, allowing Vince Wilfork to register a sack.
Koutouvides admitted he was excited to be out there with the starting unit.
"It was exciting," Koutouvides. "I was just focused on doing my job, my responsibilities. Pretty much the whole time, I was focused on what I had to do. I just wanted to perform at a high level to help the team win the game."