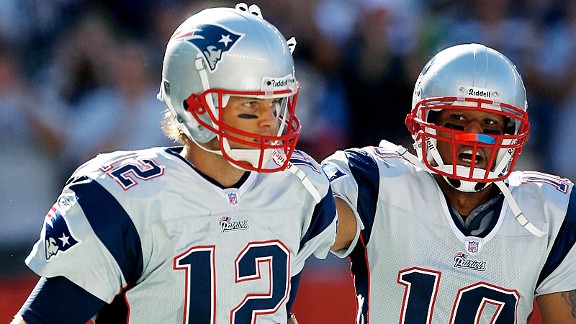 Jim Rogash/Getty Images
Jabar Gaffney quickly earned Tom Brady's trust in New England.FOXBOROUGH, Mass. -- No one knows better the challenges of being the No. 3 receiver in New England than Jabar Gaffney. But he's one of the few that have actually thrived in that role.
Gaffney caught 85 passes for 1,059 yards and eight touchdowns in three seasons with New England from 2006-08. Ever since his departure, the Patriots have been desperately seeking a consistent No. 3 receiver option, but no one has been quite able to grasp it, from younger players like Julian Edelman, Brandon Tate, and Taylor Price, to veterans like Chad Ochocinco and Joey Galloway.
Is Gaffney surprised by those struggles?
"It's a pretty tough offense and if you're not really used to it, it can be a little overwhelming," Gaffney said Wednesday during a conference call with the New England media. Now in his first season with the Washington Redskins, Gaffney will line up against this former team Sunday afternoon in the nation's capital. "With [coach] Bill [Belichick], he doesn't play you if you don't know your stuff. He's not going to put you out there and trust you in those situations.
"You have to be smart out there, you have to know everything. You could have four or five different routes on each play, but you gotta get on the same page with the quarterback and reading the defense at the same time."
So what's the secret?
"[The No. 3 receiver has] to look at himself as the No. 1, because on any play, Brady probably does the best job of any quarterback of reading the play and he'll get it to you," he said. "You want to be reliable on that side, because if he comes to you, you gotta make plays."
As Belichick and Brady were singing Gaffney's praises at the podium in the Patriots' media workroom, he reflected glowingly on his time in New England. He called Brady the "best in the game; definitely the best quarterback I've played with." So how did he click with him so quickly?
"Just the attention to detail -- his attention to detail," said Gaffney. "He pretty much let's you know what he expects and puts in a lot of work. I was always the guy that didn't mind putting in work, so we got on the same page real quick."
Said Brady of Gaffney: "Jab does everything well. He's intelligent, has good size, long arms, speed, plays every position. From the day we got him he was so reliable, so dependable. He can do it all and he does it well. I was bummed when he went to Denver. I was bummed when he went to Washington, and now we have to play against him."
As the world awaits a final decision on whether a Patriots-Broncos matchup later this month will be flexed to primetime, Gaffney also offered some insight on quarterback Tim Tebow, who he spent time with in Denver.
"People are crazy about Tebow -- and with good reason," said Gaffney. "He's a good guy, he knows how to win. Whether you like it or not, he knows how to get the job done... He's unconventional; he's not built like a Brady or [Peyton] Manning or [Drew] Brees; He's Tebow. But when it's Tebow Time, stuff happens, for whatever reason."