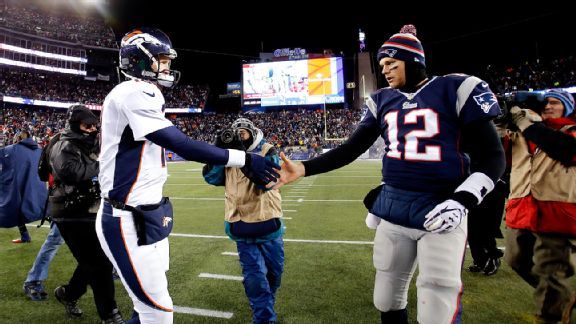 Jim Rogash/Getty Images
Freezing temperatures did not affect Tom Brady as he led the Patriots to a comeback win Sunday. Unfazed by the frigid Foxboro weather (22 degrees at kickoff), Tom Brady led the New England Patriots back from a 24-point halftime deficit to beat Peyton Manning and the Denver Broncos in overtime Sunday night.
With Super Bowl XLVIII being played at MetLife Stadium in East Rutherford, N.J., we thought we'd take a look at how these two legendary quarterbacks have fared in cold weather.
Brady thrives in the cold
Brady has proven to be one of the best cold-weather quarterbacks in the league as he's been provided no shortage of opportunities while playing in New England.
Best Comp Pct in Outdoor Games
Freezing or Colder
Since the beginning of 2001 (which is as far back as we have data for specific temperatures), Brady has had 1,031 dropbacks in 29 outdoor games at freezing or colder, both numbers the most by any quarterback in that timeframe. He has led the Patriots to a 24-5 record in those games.
If you think Brady has an uncanny ability to throw accurate passes in the cold, you'd be right. Since the start of 2001, Brady's 62.7 completion percentage in games played in freezing temperatures trails only Aaron Rodgers and Chad Pennington. However, it must be noted that Brady has more wins in such games than those two have combined to start.
Comparing Brady to Manning
Whereas Brady seems to thrive in the cold weather, Manning, who spent much of his career playing home games in a dome, struggles in freezing temperatures.
In the same time span since 2001, Peyton Manning's teams are 2-6 when he starts in freezing temperatures with a 68.8 passer rating in those games. (It's worth noting that two of those losses came in meaningless Week 17 games where he didn't even play in the 2nd half.)
Brady's 91.4 passer rating in such games is the third-best in the league among qualified quarterbacks since the beginning of 2001, trailing only Rodgers (102.6) and Ben Roethlisberger (95.6).
Gone with the wind
With winds upwards of 20-25 mph blowing left to right (on the broadcast) most of the night, the Broncos would have been throwing into the wind in the first and fourth quarters as well as in overtime.
Manning/Brady Passing Into The Wind
Sunday Night
The chart on the right breaks-down how Brady and Manning each did going into the wind Sunday.
It's clear that it was a major factor in Foxboro Sunday, just like it may be come Super Bowl time. Brady excelled passing into the wind, completing 74 percent of his attempts with a Total QBR of 95.3. Manning struggled, completing just 48 percent of his 23 passes into the wind and a Total QBR of 26.6.
Not to be lost in the attention for the quarterbacks was the performance of the receivers for both teams. In those 23 throws "into the wind", Brady's targets dropped one pass while three of Manning's 12 incompletions were due to on-target drops.
It's still likely that both teams will have multiple chances for more cold-weather games before either would represent the AFC in the Super Bowl in February, so there will be more chances for both quarterbacks to change the cold-weather stories for their teams.
John Carr and Dan Riccio contributed to this post.