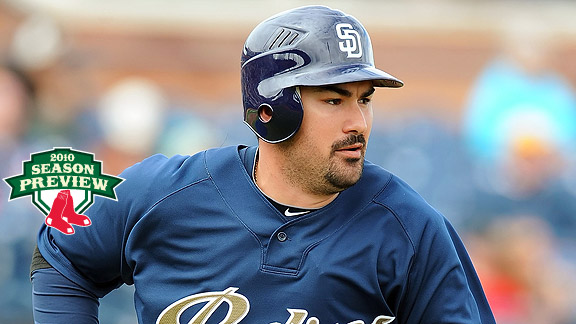 Lisa Blumenfeld/Getty Images
Day 3 of our Red Sox season preview features a look at Red Sox trade target Adrian Gonzalez, the Padres first baseman who Theo Epstein is sure to try to acquire again before the Jul 31 trade deadline.
ESPNBoston.com's Gordon Edes spoke with Red Sox special assistant Dave Finley, who was with the Marlins in 2000 and played a role in the team drafting Gonzalez with the No. 1 pick in the draft.
Here's more from Edes, who connects the dots to conclude that all signs point to Boston making another concerted run at acquiring Gonzalez:
Adrian Gonzalez was the last player Dave Finley would personally sign, one who has more than lived up to the scout's projections: a .304 average in 2006, an average of 106 RBIs in each of the last three seasons, and a home run total that has gone up every year, from 24 in '06 to 40 last season.

A decade later, Gonzalez is back in San Diego, this time as a big league star and a hometown favorite. Finley is with the Red Sox, promoted in January as special assistant to general manager Theo Epstein, who didn't want to see Finley follow his former assistant and new Padres GM Jed Hoyer to San Diego.

And Finley is working for the same owner, Henry, who was once willing to spend millions on Gonzalez and would be eager to do so again.

The Red Sox pushed hard before the trading deadline last July to acquire Gonzalez, right to the final day, but every time they thought they were close to a deal, Padres GM Kevin Towers asked for more. The Sox, finally deciding that Towers wasn't ready to part with Gonzalez, turned to Cleveland and traded for switch-hitting Victor Martinez instead.

The Sox made inquiries again this winter, this time to Hoyer, who last summer was on the same side of the negotiating table, trying to persuade the Padres to part with Gonzalez. With Gonzalez signed for relatively low money through 2011, and the one player worthy of marquee status after the Padres traded pitching mainstay Jake Peavy to the White Sox, San Diego insists it's in no hurry to peddle him.

"It wouldn't surprise me to see him here two more seasons," Padres CEO Jeff Moorad told the San Diego Union-Tribune last week. "We're first and foremost committed to winning here. Last year I thought we took the first significant step in that process. And, at this point, Adrian definitely is a part of that process."

Finley, born and raised in San Diego and a lifelong Padres fan, understands more than most the elements of Gonzalez's appeal there: bilingual, outgoing, real star appeal on a team lacking any.

"He's a perfect fit in San Diego, except for the fact they're not winning."

And there's the rub, and the reason the Red Sox, who see Gonzalez as the ideal, middle-of-the-order hitter to succeed David Ortiz, will make a concerted effort to acquire Gonzalez again between now and the July trading deadline. The Padres aren't presently constructed to win. Gonzalez could bring multiple pieces in a deal. Hoyer and his top aide, Jason McLeod, the former Sox scouting director, know the Red Sox system better than any other management team.
We also reached back into the archive to dig up a statistical analysis of why Gonzalez is perfectly suited to play at Fenway Park.
Here's a recap at our Red Sox season preview features so far and a look at what's coming up from Gordon Edes, Joe McDonald and ESPN.com's baseball reporters for the rest of the week:
* Monday:
-- Jeremy Lundblad: For Red Sox, a run saved is a run earned
-- Stark: What truly makes a winner win
-- Rank 'em: Where would rank the Red Sox among all teams in baseball?
* Tuesday:
-- Joe McDonald: Red Sox success rides on Big Papi
-- AL East capsules: Yankees | Red Sox | Orioles | Rays | Blue Jays
-- Vote: Which team is tops in AL East?
-- Olney video: Options if Ortiz struggles
-- How Red Sox won 122 games in a sim season

-- Sim season: AL East preview

-- Video: Baseball Tonight's AL East picks
-- Video: Schilling on Sox pitching, AL East
* Wednesday:
-- Gordon Edes: Why Adrian Gonzalez is Boston's Most Wanted
-- Four reasons for offensive optimism for Sox
* Still to come Wednesday:
Joe McDonald's player-by-player Red Sox scouting report
* Thursday: Edes compares the starting rotations of the Red Sox and Yankees (and we ask you to rank each pitcher) and staff predictions for the Red Sox in 2010.
* Friday: Complete Red Sox-Yankees preview, plus season predictions.