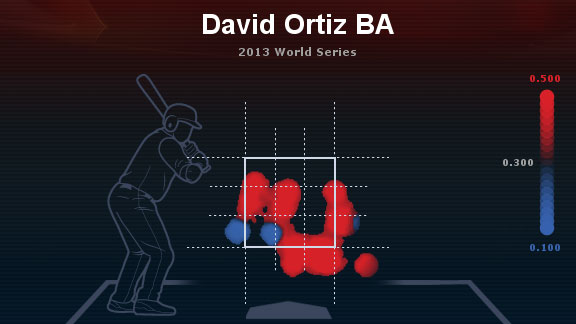 David Ortiz has been nearly impossible to get out this World Series.If David Ortiz gets into the Hall of Fame, people will point to the 2013 World Series as the stretch that put him over the top.
Before this postseason, Ortiz had already established himself as a clutch playoff performer en route to Red Sox championships in 2004 (two walk-off hits) and 2007, but this October might just be his best one yet. We'll acknowledge that his ALCS performance was subpar overall (just two hits in six games), but one of those hits was a Game 2 grand slam that rallied the Sox past the Tigers and served as the turning point in the series.
In the World Series, he's been untouchable, as locked in as perhaps any player in postseason history.
Consider the following:
• He is 11-of-15 (.733 batting average) against the Cardinals with six runs batted in, four extra-base hits, four walks and no strikeouts. He has an OPS of 2.017 (let that one sink in). Those 11 hits are two shy of the record for most in a World Series, which is shared by Bobby Richardson (1964 Yankees), Lou Brock (1968 Cardinals) and former Red Sox second baseman Marty Barrett (1986 Red Sox). The only player other than Ortiz in major league history to reach base (by hit, walk or HBP) at least 15 times over the first five games of a World Series is Barry Bonds in 2002.
• As a team, the Red Sox are hitting .205 in the World Series. If you take away Ortiz, that number drops to .151.
• Ortiz became the third player to reach base safely in nine straight plate appearances in the World Series, according to the Elias Sports Bureau, joining Joe Gordon (1939/1941 Yankees) and Billy Hatcher (1990 Reds). Ortiz and Hatcher are the only two to do so in a single World Series.
"I've got my mindset. I've been playing this game for too long, and when I go to the plate, I try to look for a strike and try not to get out of it," Ortiz said after Monday night's Game 5 victory. "And that's pretty much what I've been doing all year."
• He became the first Red Sox player ever with consecutive three-hit games in the World Series. According to Elias, Ortiz (37) is the oldest player in MLB history with back-to-back three-hit games in the World Series.
• With his first-inning RBI in Game 5, Ortiz now has 14 career RBIs in the World Series. That ties the team record, held by Dwight Evans.
• Among players with at least 40 World Series at-bats, Ortiz has the highest OPS in major league history.
• Unlike other Cardinals pitchers, Game 5 starter Adam Wainwright challenged Ortiz instead of working around him. Wainwright changed his windup to try to disturb Ortiz's timing. The slugger still went 3-for-4.
"I wasn't paying any attention to that," Ortiz said. "To be honest with you, he threw me some tough pitches tonight. He was throwing me cutters in. And I know that pretty much after he gets ahead with two strikes, he wants to strike me out with a breaking ball. So you make up your mind. It's a battle when you face that kind of pitcher, as good as he is, and as good as the rest of the pitchers that they have -- they have a great pitching staff. And if you try to look for everything they throw, you definitely are not going to hit anything."
Ortiz has been at his best in the seasons in which the Red Sox reached the World Series (perhaps not coincidentally). In 2004, he reached base in 13 of 14 games and had back-to-back walk-off hits in the ALCS against the Yankees. He had 19 RBIs during that playoff run with a .400 average, .515 OBP and 1.278 OPS. In 2007, he put up a similar line: He reached base in 13 of 14 games, had a .370 average, .508 OBP and 1.204 OPS.
Even factoring in his below-standard ALCS performance this October, he has reached base in 13 of 15 games and has a .360 average, .476 OBP and 1.196 OPS.
"I was born for this," Ortiz said after Boston's Game 5 victory.