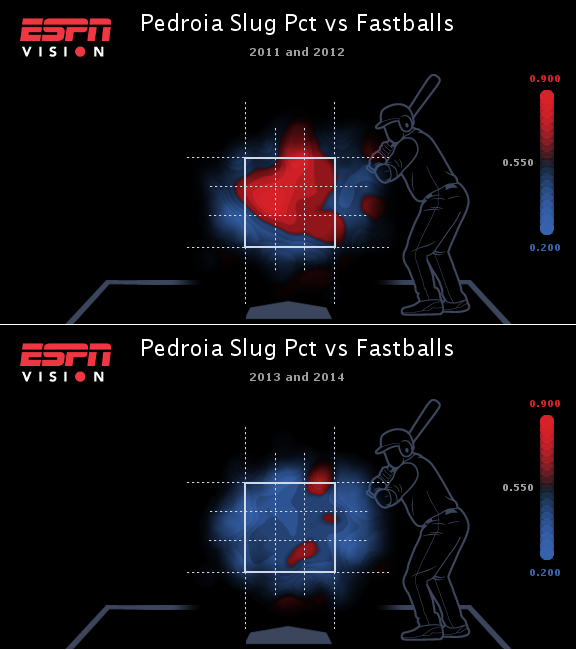 ESPN Stats & Information
TORONTO -- He is a highly regarded talent evaluator for a major league club, and the day after watching Dustin Pedroia play earlier this month, he offered this theory on why the Red Sox second baseman is struggling.
"Just like last year, something must be physically wrong," the evaluator said. "He'll never admit it, nor will the team. [But] the statistical drop-off is too drastic to ignore, given his history."
This much is certain: Pedroia has been given lots of chances to say injuries are responsible for the decline in his performance, and has rebuffed every one of them. Surprised? You shouldn't be. Last year, weeks passed before he admitted that he had torn the ulnar collateral ligament in his left thumb in the season's first game in Yankee Stadium, and only after a Boston Herald report of the injury. He recovered to have a strong second half, but had surgery on the thumb in November.
So, the question was put to him in a different way Wednesday: How much better would he be playing with a healthy left hand?
"I'll be OK," he said. "It's part of playing, being an everyday player. I didn't say anything last season because I was playing every day."
It's no different this season: Pedroia has played in 98 of the team's first 100 games. And when he was told of the talent evaluator's comments, he didn't make any effort to rebut them.
"I'll be OK," he said. "I'll find a way. It's part of the game."
In this season's home opener, Pedroia landed badly on his left wrist when upended on a double play relay against the Milwaukee Brewers, but went from fears that he might have fractured the wrist to a diagnosis of "some inflammation," allowing him to persist with his "I'm fine" mantra. He was given a cortisone injection, but otherwise has played in 98 of the team's first 100 games. The ballclub also has maintained that Pedroia is not limited physically.
But there is nothing fine about his performance at the plate, although he continues to play exceptional defense. With a first-inning single in Wednesday night's 6-4 loss to the Toronto Blue Jays, Pedroia snapped an 0-for-17 spell. He is 2-for-24 since the All-Star break, and in his last dozen games, he is batting .170 (9-for-53). Only two of those nine hits have been for extra bases, both doubles.
Over the first three months of this season, Pedroia posted an OPS of .676 in April, .787 in May and .699 in June. May was consistent with his career numbers (.788), but the other two months were more than 100 percentage points lower. The drop-off has been even worse in July. Pedroia has a .612 OPS this month, compared to a career OPS of .838, a dropoff of 226 percentage points.
In late June, Pedroia vowed he was about to start hitting.
"I haven't got hot yet," he said. "I plan on getting hot -- hotter than Tent City.''
And for a brief time, he backed up his words. In an eight-game span (June 28-July 6), Pedroia went on a tear, batting .500 (16-for-32) with a 1.072 OPS. But even that came with a qualifier -- 15 of the 16 hits were singles, which is not representative of Pedroia at his best -- and since then, he has gone into a funk.
"I was swinging the bat good before the break," Pedroia said Tuesday night, "but when we got back, I hit some balls hard and did not have much to show for it.
"I don't know, I'm trying to do too much instead of letting the ball come to me. I've got to figure it out. I've got to try and get better and help us.''
The Sox have been winning during his dry spell, which has made his slump more tolerable. But in his last dozen games, his batting average has dropped 15 percentage points and his OPS has slipped from .741 to .702. His production the past two seasons has taken the steam out of the debate over who is the better-hitting second baseman, Robinson Cano or Pedroia. While Cano has maintained his production in Seattle, Pedroia came into play Wednesday night ranked just 14th among major-league second basemen in batting average, 13th in OPS, tied for eighth in extra-base hits and seventh in WAR (2.7).
Pedroia is too young -- he turns 31 on Aug. 17 -- to be experiencing such a significant decline. But this is not the performance expected of a player who a year ago to the day came to terms on an eight-year, $110 million contract extension that will take him through his 38th birthday. That contract was designed to make Pedroia a foundational piece of the franchise for the remainder of his career. But that foundation is showing cracks.
In 157 games since the announcement of his extension, the equivalent of a full season, Pedroia has posted a .278/.343/.380/.723 slash line, with 7 home runs, 82 runs and 63 RBIs. His career slash line before last year's thumb injury: .303/.369/.461/.830. That's a big difference.
Tuesday night, Pedroia said his timing was off.
"I'm a little out front on off-speed stuff, and late on the fastball," he said. "That stuff happens. I got to find a way to fix that and produce."
What he didn't say was that it would help to have a healthy left hand.