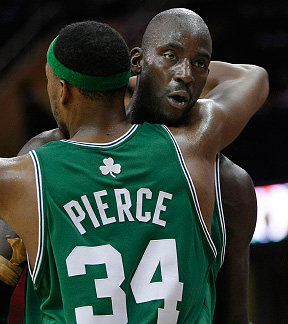 AP Photo/Tony Dejak
The Celtics had plenty of reasons to be excited after Tuesday's Game 5 triumph.CLEVELAND -- The Boston Celtics opened the 2009-10 season here at Quicken Loans Arena 197 days ago with championship aspirations that only escalated after topping the revamped Cleveland Cavaliers on their home court on opening night.
Said Celtics captain Paul Pierce at the time: "We just carry on, handle our business, and understand we have one goal in mind."
The Celtics never wavered from that goal over the past 28 weeks, even as their season played out like a roller coaster, rising behind a 23-5 start that culminated with a Christmas Day victory over Orlando, then plummeting out of control as Boston battled injuries and inconsistencies in the new year.
Seeded fourth in the Eastern Conference playoffs, hardly anyone gave the Celtics a chance of getting past LeBron James and the top-seeded Cavaliers.
Pierce simply kept repeating what he had said on opening night: "We really don't care what people say about us. We know what our goal is."
For the past 6 1/2 months, the Celtics have had their eyes on that final prize, but rarely looked like a team capable of reaching it.
Then Tuesday night, Boston stormed back into Quicken Loans Arena, its fourth visit of the year, and throttled the Cavaliers, 120-88, in Game 5 of an Eastern Conference semifinal series.
Suddenly, the Celtics are up 3 games to 2 with all the momentum as the series shifts back to Boston. After 197 days, Boston looks like they might finally have put it all together.
They certainly did Tuesday.
Click HERE to read the full story.