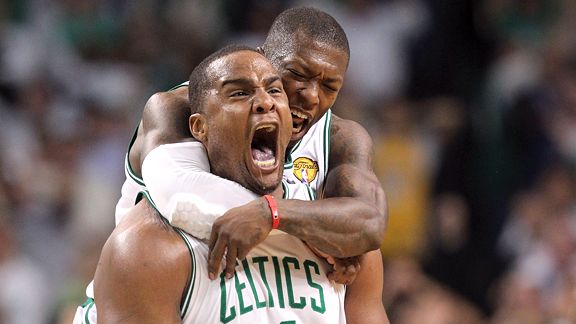 Ronald Martinez/Getty Images
Nate Robinson and Glen Davis celebrate during the fourth quarter.BOSTON -- Instant reaction after the Boston Celtics posted a 96-89 triumph over the Los Angeles Lakers in Game 4 of the NBA Finals at the TD Garden:
How the game was won: Boston's Glen Davis (18 points) and Nate Robinson (12 points) highlighted an effort in which Boston leaned heavy on its reserves in the fourth quarter of what amounted to a must-win game. Four of Boston's five starters finished in double figures, including Paul Pierce with a team-high 19 points, but the night belonged to the reserves. Kobe Bryant scored a game-high 30 points for the Lakers, while Pau Gasol chipped in 21 points.
Turning point: Trailing by a bucket entering the fourth quarter, Boston leaned heavy on a lineup that featured Ray Allen and a quartet of reserves (Davis, Nate Robinson, Tony Allen, and Rasheed Wallace). The Celtics soon embarked on an 11-2 run to take control of the game. So much so that Rivers leaned on that lineup for more than nine minutes before subbing in the majority of the starters with an 85-77 lead with 2:51 to play.
Stat of the game: The fact that Rivers leaned on the lineup of Allen and the reserves for 9:09 cannot be understated. It was a brazen move to ride the hot hands and they rewarded his faith with inspired play throughout... Boston also won the battle on the boards, outrebounding the Lakers, 41-34. The team that wins the battle on the glass has won each game this series.
Unsung hero: Pierce quietly connected on 7-of-12 shots for the team-high 19 points, while adding six rebounds and a team-high five assists (on the negative side, he did commit five turnovers).
What it means: Boston evens up the series, ensuring this series is headed back to Los Angeles next week. But before that, we've got a monster Game 5 at the Garden Sunday. The Celtics still haven't played their best basketball -- and neither have the Lakers -- but a win is a win is a win. And Boston still has a chance now to push the Lakers backs to the wall before the series returns to the west coast.