Some NFL players weigh more than 300 pounds. If you think those players can walk into their team cafeteria and eat whatever they want, think again. In the ultra-competitive modern NFL, players and teams are looking to gain an advantage wherever they can. Nutrition has become an important component of building a winning team, which means NFL teams carefully control what players eat while they're in the practice facility.
On a typical afternoon in the Buffalo Bills' cafeteria, which was expanded in 2014, salmon, chicken, broccoli and asparagus are on the menu -- but no burgers, fries, ice cream or sweets. "Everything is going to be as healthy as possible," assistant strength and conditioning coach Will Greenberg said in August. "The idea is if we can give [players] as many good nutrients as possible while they're here, there's going to be times where guys go and they want cheeseburgers somewhere -- they're going to have that, that's going to be their choice, that's fine. But if we can give them three meals here and maybe a take-home meal, that's a great chance for guys to eat healthy all the time."
The Bills' cafeteria serves about 250 people per day, which includes players, coaches and staff members. The kitchen staff arrives as early as 4 a.m. to begin preparations for the day and serves food until about 7 o'clock at night. Greenberg works with a nutritionist twice per week to determine menus for players, but one favorite snack has stuck.
Much like their counterparts in the NBA, Bills players love their peanut butter and jelly sandwiches. "We make it with Ezekiel bread and a homemade jam," Greenberg said. "So they probably don't know anything different. But we kind of get around the hydrogenated oils and everything. I don't mind giving it to them. If that's what they're going to eat as opposed to some crappy sandwich from McDonald's or something, I'd much rather do that."
Here is a behind-the-scenes look at the Bills' cafeteria and the usual meal schedule for two of their most well-known players:
PROTEINS
Buffalo is known for its wings, but Bills players will have to make a trip to local favorites such as Elmo's Bar & Restaurant or the Bar Bill Tavern if they want to enjoy the city's signature food item. Don't expect to find wings in the team's cafeteria.
"Very rarely are we having french fries or anything deep-fried," Greenberg said.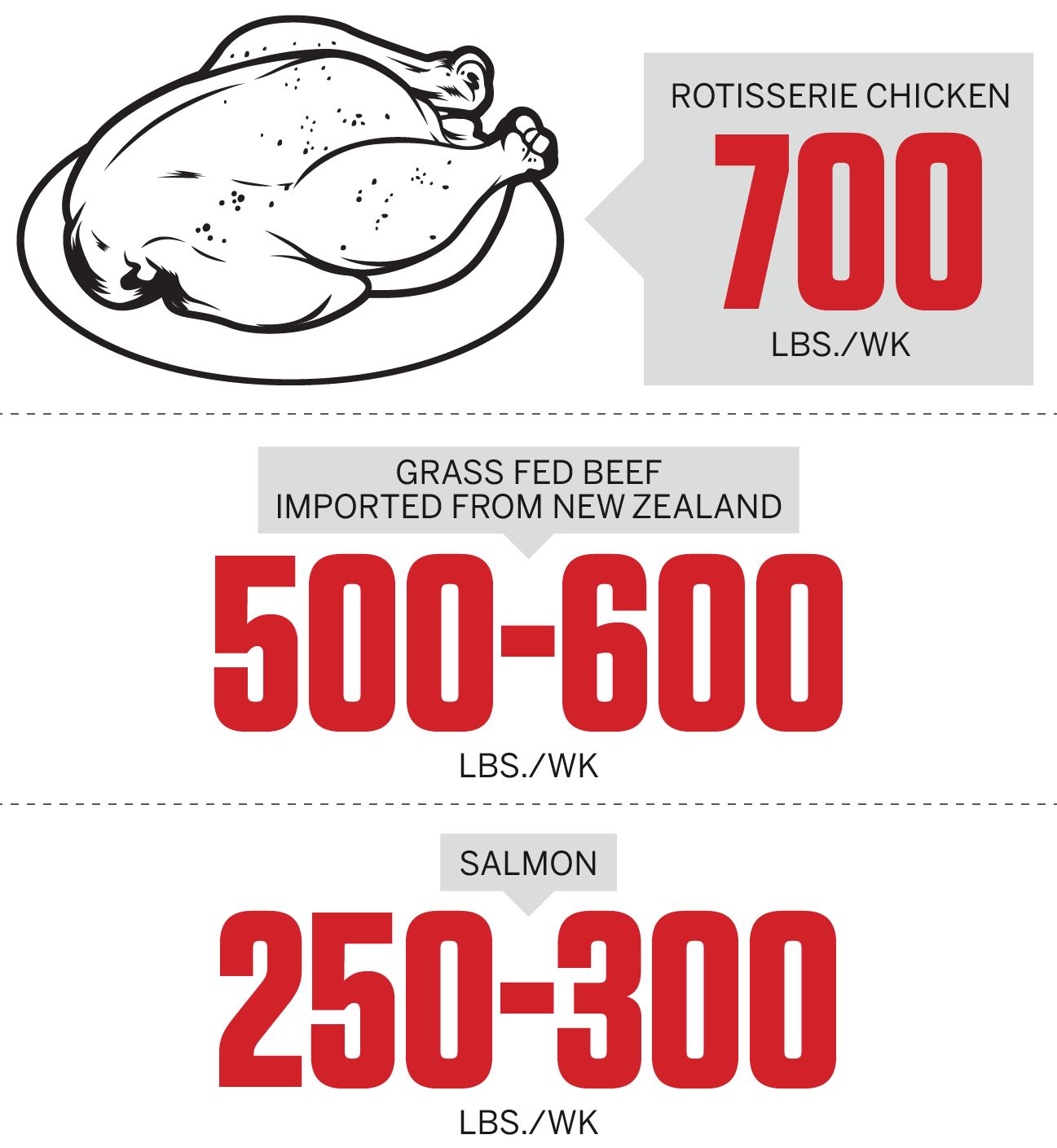 Chicken is on the Bills' menu, but in a healthier form than deep-fried wings. The team typically cooks 24 rotisserie chickens each day. That is one of multiple protein options available to players, the most common being grass-fed beef imported from New Zealand. The Bills serve a staggering 400 to 500 pounds of beef on average each week, and went through a half-ton of it during one week of organized team activities in the spring. For players who prefer fish, the cafeteria rotates several choices.
More than 250 pounds of salmon is served each week, with cod, tilapia, sea bass and halibut also making appearances on the menu. Though wings are not often served, pizza is the closest players might come to cheating their healthy diet. The team creates a themed flatbread pizza for each week's opponent, such as an unusual crab cake pizza when Buffalo traveled to play Baltimore in the preseason. The cafeteria also offers deli meats for players and staff to make sandwiches.
FRUITS/VEGETABLES
The Bills pair a green vegetable and a healthy starch with each of their protein choices.
On one day in August, the team served zucchini noodles and brown rice with Thai-themed chicken, and steamed asparagus and white rice with beef tenderloins. Steamed broccoli and sweet potato wedges were available with BBQ rotisserie chicken. The Bills serve an average of 50 bunches of asparagus per day and 60 pounds of broccoli per day.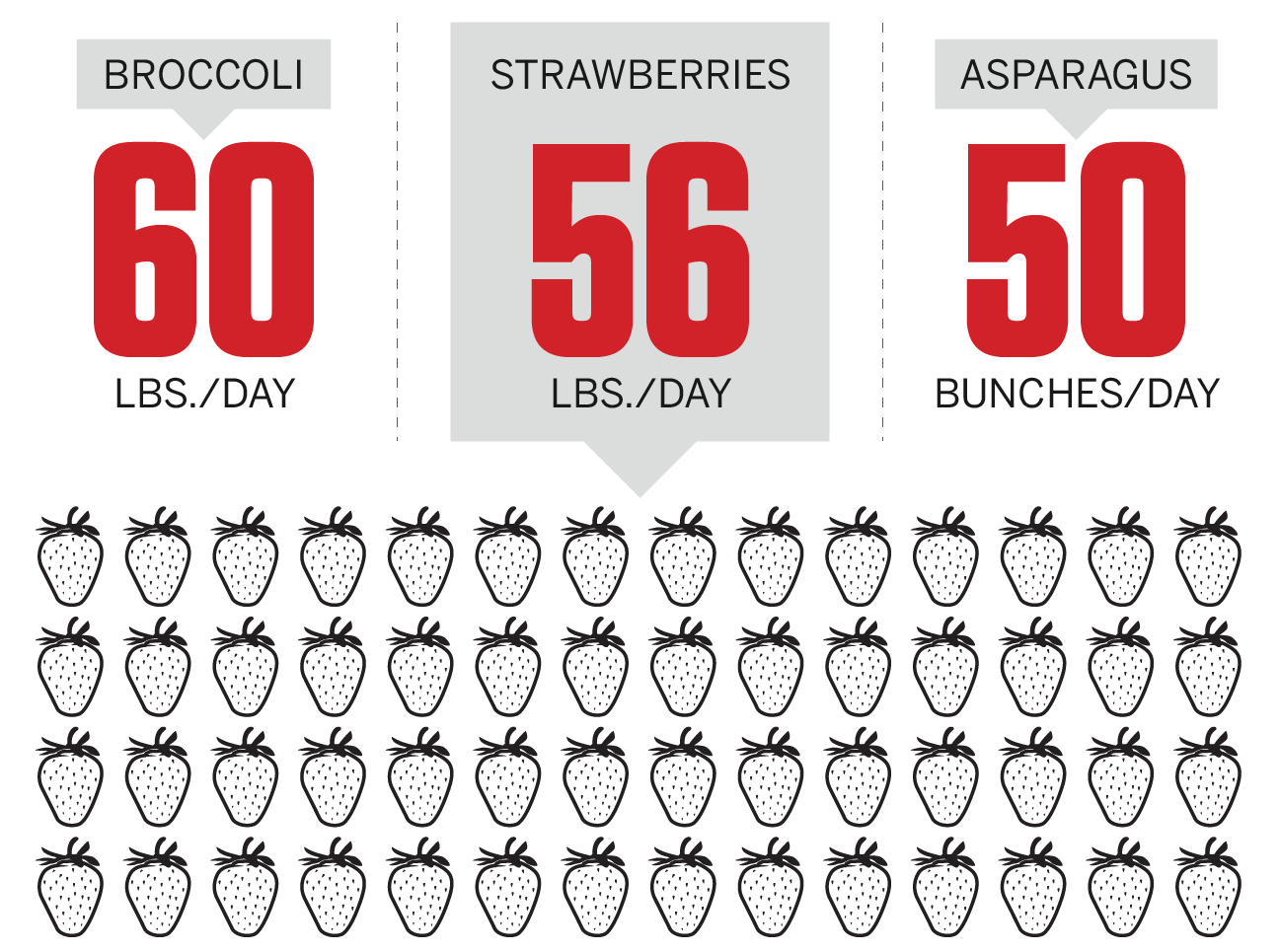 All of the food in the Bills' cafeteria is cooked in coconut oil or grass-fed butter. The team does not use canola oil or processed oils. If players want to add fat to their meal, there are small containers of fish oil and olive oil available.
In addition to a stir-fry station where vegetables are served, the Bills offer a salad and soup bar. There are also to-go meals available, which are popular with players' family members.
HYDRATE
Perhaps the most popular area in the Bills' cafeteria is the smoothie bar, where the Bills serve 60 shakes per day, each 24 ounces.
Players can choose from several premade shakes, such as the "body composition" shake -- pineapple, kale, almond butter and lemon fish oil -- or the "vanilla thrilla," which has strawberries, a banana, vanilla whey, chia seeds, flax seeds, almond milk and almond butter. The Bills go through a 35-pound tub of almond butter each week and about 56 pounds of strawberries each day.
In addition to shakes, the Bills offer what they call "shooters" -- plastic cups filled with a mix of spices, herbs and liquid. One is called the "veteran" and includes turmeric, lemon, apple cider and cayenne.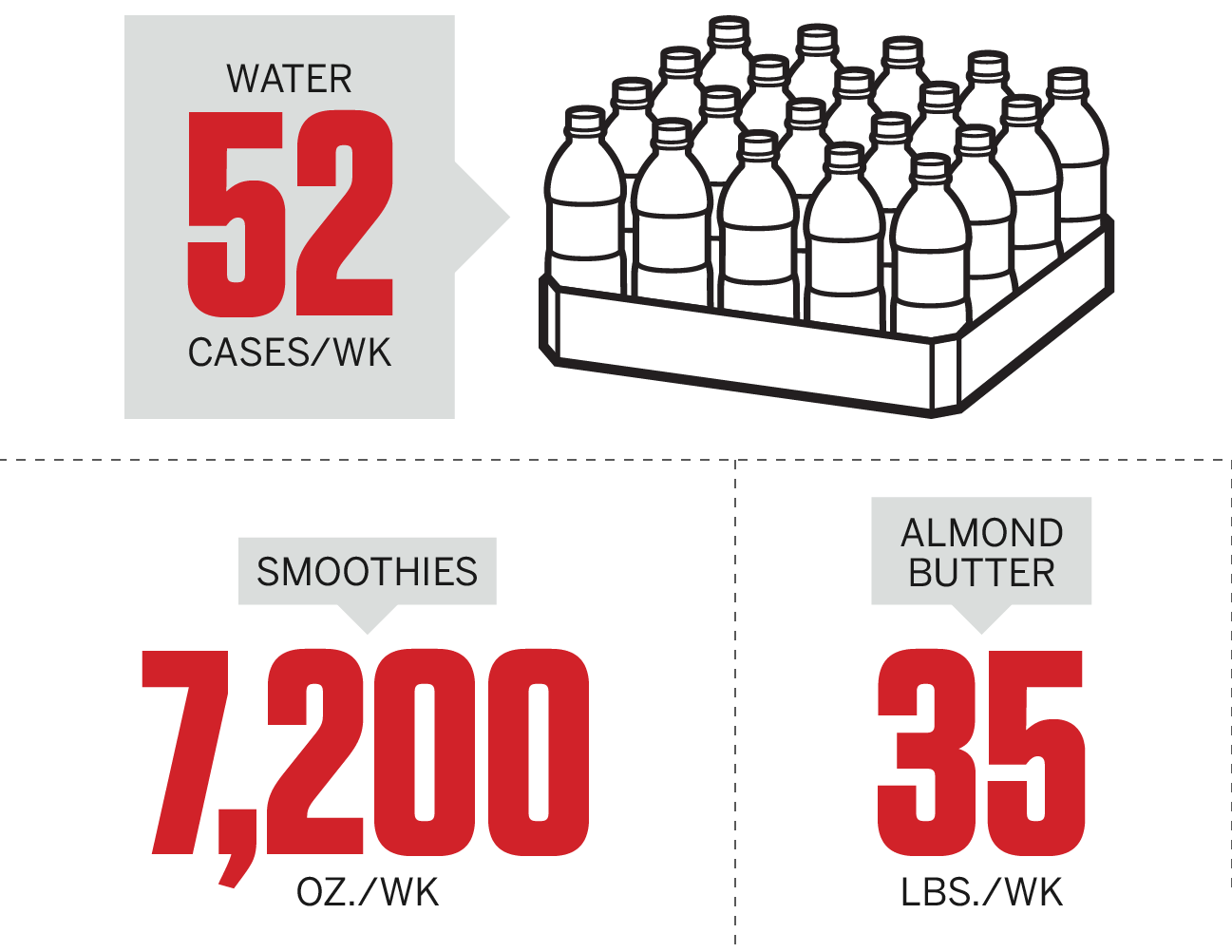 "It's highly anti-inflammatory," Greenberg said of the shot. "You have your old guys that are beat up, it's, 'Hey, get yourself a veteran shot.'"
There is also a recovery shot that includes beets, which Greenberg says can help with blood flow post-training. Don't expect to see players grabbing a soda or sugary drink with a meal.
Instead, the team consumes about 52 cases of water each week, including the team-branded "Bills water" which is available in the cafeteria. When players sit down at the tables in the cafeteria, signs remind them of how much water they should consume each day. The suggested amount before each practice is half of the player's body weight in ounces of water (if a player weighs 250 pounds, he drink 125 ounces of water). Gatorade is recommended after practice, with Pedialyte considered an "added bonus" for providing electrolytes.
PLAYER DIETS
According to Greenberg, one of the challenges in preparing meals for the Bills' offensive linemen -- who average 320 pounds -- is finding healthy foods that will meet those players' calorie needs of upward of 4,000 per day.
The answer is typically higher volumes of lean proteins and vegetables. Pro Bowl guard Richie Incognito, for example, attempts to eat nine servings of vegetables each day. He has a spinach salad with his breakfast, a vegetable supplement in the morning, another salad at lunch, and a smoothie containing kale in the afternoon. Incognito's target intake is 3,500 to 3,800 calories a day, which he tapers by eating more calories in the morning and less as the day progresses. The goal is for him to build lean muscle by consuming food when he needs the energy in the morning, as opposed to in the evening when he is not training or practicing.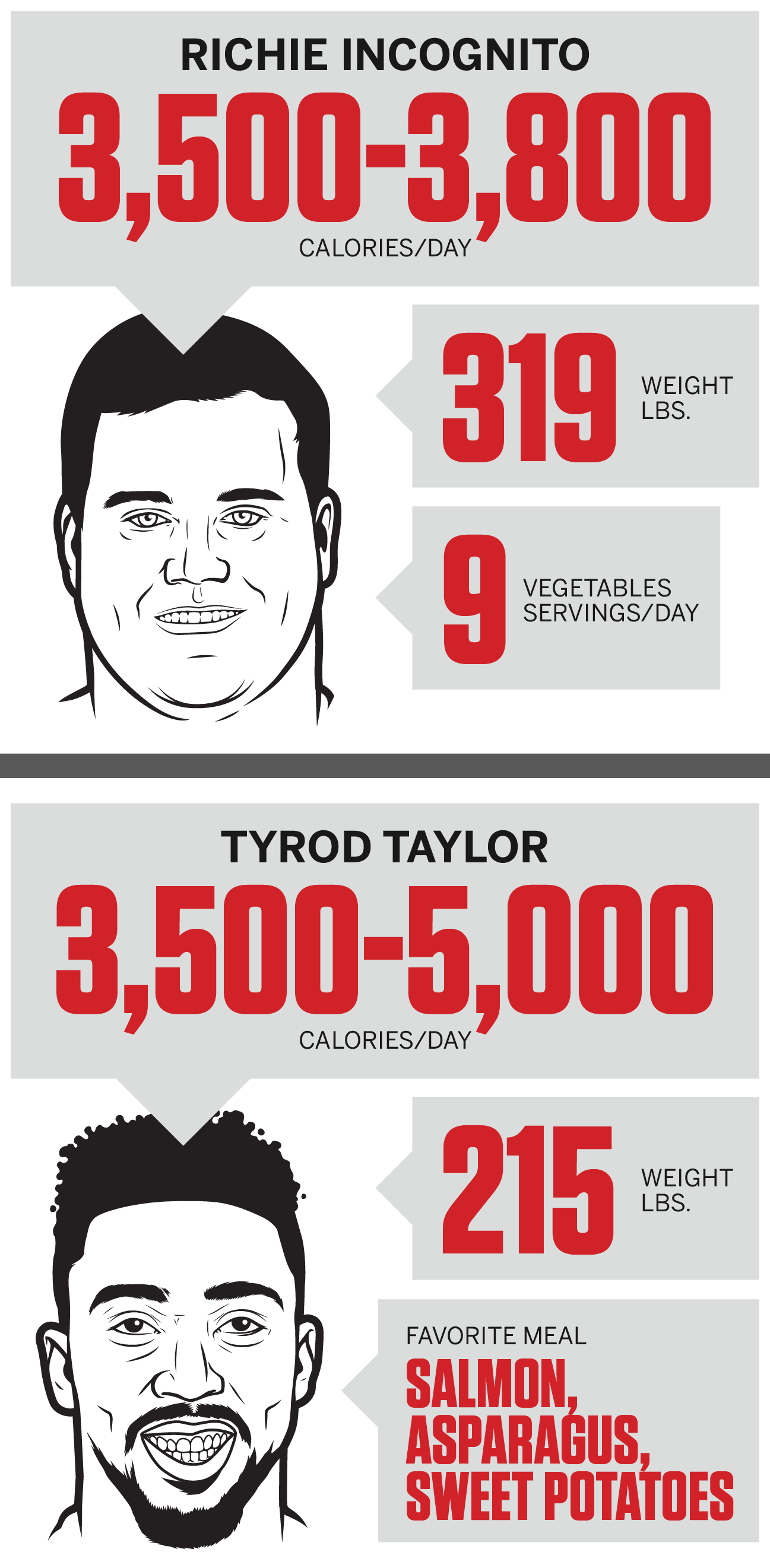 Quarterback Tyrod Taylor, who is 215 pounds, has a similarly healthy diet. In the offseason, his goal is to gain weight and consume as many as 5,000 calories daily, although realistically he gets between 3,500 and 4,000. Taylor's go-to meal is salmon, asparagus and sweet potatoes. He stopped eating beef or pork when he was a junior in high school. At a high school All-America game, Taylor overheard now-Jaguars wide receiver Arrelious Benn talking about his diet. At the time, Taylor ate fast food but was inspired to try not eating beef or pork for a month. More than a decade later, Taylor sticks to that approach. If Taylor strays from his strict diet, it happens when he is at home in Virginia and his grandmother offers him macaroni and cheese. "Who doesn't like mac and cheese?" Taylor said.