Through eight innings and two outs in the bottom of the ninth inning, it was all good for the Detroit Tigers in Kansas City on Wednesday. Justin Verlander threw seven scoreless innings, Prince Fielder drove in another run and the Tigers were literally one strike away from tacking onto their lead in the AL Central.
There is so much to like about the Tigers this year, a rival evaluator said earlier in the day -- their rotation is outstanding, they have a really good offense and their outfield defense mitigates some of the problems created by their infield defense. The evaluator noted that in his team's internal metrics the Tigers are the best team in the majors, and by a significant margin.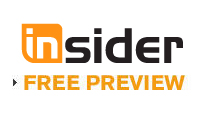 There is just one problem: The guy charged with getting the last outs of games isn't getting enough outs.
All of the Tigers' good work Wednesday unraveled when Jose Valverde gave up a game-tying home run to Lorenzo Cain with two outs in the ninth inning, and then Detroit lost in extra innings, a gut-wrencher. Valverde acknowledged afterward that he hung the pitch to Cain, but Jim Leyland was in no mood to talk about Valverde's role moving forward, Tom Gage writes:
An irritated Jim Leyland was a strike away from having a normal postgame news conference instead of cutting it short after 1 1/2 minutes because reporters were "late" to his office ... when they weren't.

It can't be said, however, Leyland was in no mood to answer a question about Valverde.

"It was a high split," he said about the home run pitch. "It didn't split too good and the kid hit it out of the ballpark.

"He left it up out over the plate."

And he paid the price for it.

But so did the Tigers, which is what concerns Leyland most.

Here he is with a closer that no matter how much the Tigers want to think is reliable, isn't.

Valverde has blown three saves in 12 opportunities. But the last four times he's pitched have been scary.
From ESPN Stats & Info: How Valverde blew the save:
A) Cain's game-tying homer came on a splitter from Valverde, the only non-fastball Valverde threw during his outing.
B) Valverde has thrown 20 splitters in his past six games and allowed three home runs among those 20 pitches. He allowed no hits on the 21 splitters he threw in his first 12 appearances of the season.
Hitters went 3-for-39 with zero home runs against Valverde in his first 12 outings of the season, and are 10-for-27 with five homers in his past six appearances.
If there was a simple and easy alternative to Valverde, the Tigers would find it, because the marching orders from owner Mike Ilitch are simple: Win a championship. When Victor Martinez got hurt two winters ago, Detroit didn't replace him with a combination of journeymen and internal options; the Tigers spent more than $200 million on Price Fielder. When it looked like Anibal Sanchez might sign with the Cubs last winter, the Tigers stepped up and paid Sanchez like a No. 1 starter, even though they already have two of those in Verlander and Max Scherzer. In the summer of 2011, GM David Dombrowski made one of the most aggressive and adept trades of the year in prying Doug Fister away from the Seattle Mariners. So nobody can accuse the Tigers of not being proactive.
But the simple fact is that there are very, very few relief options available to them in the market.
I asked some rival evaluators who have a feel for the trade market about the closer candidates who could be available before the July 31 trade deadline, and the response was: Not much, at all.
Sure, you could call the Astros about 32-year-old Jose Veras, who has 11 saves this year, and the Mets aren't playing for anything this year, so they'd listen on Brandon Lyon. Kevin Gregg, perhaps. Mike Gonzalez.
Jesse Crain is having a dominant season for the White Sox, with an 0.60 ERA and 39 strikeouts in 30 innings. He is in the last year of his three-year deal with Chicago, making $4.5 million this year. "I know he hasn't closed yet," wrote one official, "but I don't know why he couldn't do it."
But for the Tigers, he might be off limits; in order for Detroit to land him, the White Sox would have to be willing to swap one of their best relievers to an archrival with more than two months to go in the regular season. Good luck with that.
If Toronto drifts once and for all, then maybe you could make a deal for Casey Janssen, who could be the focus of a lot of teams looking for bullpen help; he can fill any role, and he is respected for the way he competes, and throws strikes. Janssen has issued just three walks and has 21 strikeouts in 20 2/3 innings, and he has a $4 million team option for 2014, which won't scare anybody away.
But as one of the evaluators noted, if you're in Detroit's position -- with a championship-caliber rotation and a championship-caliber lineup -- then you're going to want a guy with the stuff to crush hitters in Octobers, and Janssen is more about moxie than velocity, given his average fastball of 89.9 mph.
Pitchers like Veras aren't necessarily upgrades, said the evaluator. "Think playoff closer," he wrote in an e-mail.
The guy he thinks is the perfect fit for the Tigers is Jonathan Papelbon, the Phillies' closer, who has pitched effectively in the midst of a lot of frustration for Philadelphia. In 22 outings, he's got 11 saves, and only three walks and 20 strikeouts in 22 2/3 innings, with a 1.59 ERA. There are no questions about whether he could handle October, given his 18 innings and 1.00 ERA in the postseason.
A lot of teams would be scared away by Papelbon's forthcoming salary: He is making $13 million this year, and is set to make $13 million in each of the next two seasons, with a vesting option for another $13 million in 2016.
But these are the Tigers, who have demonstrated a willingness to do everything possible to win a title.
Does that include taking on an onerous contract for a power closer with October experience?
We'll see. The Phillies would have to decide to do some re-tooling before that ever happened; maybe they would see value in moving Papelbon at a time when it's a seller's market among relievers.
For the readers: What would you do if you were in the Tigers' position?
(By the way: If you're wondering about Brian Wilson, a free agent, there still is no indication he's even close to pitching in the big leagues as he recovers from major surgery, and like so many of the other external bullpen options, he would come with enormous risk, because of that uncertainty. He may also prefer to pitch elsewhere.)
• The Tigers' best and most immediate option might be to move Joaquin Benoit into the closer's role, writes Lynn Henning.
• The peaks and valleys of Pedro Strop demonstrate just how volatile the career arc of a reliever can be: He was outstanding last year, and now he's a mess, and because he's out of options, the Orioles are trying to be patient, Kevin Cowherd writes.
• From ESPN Stats & Info: This was the fifth time in Verlander's career that he has pitched at least seven scoreless innings and received a no-decision. No other Tigers pitcher in the live ball era (since 1920) has more than two such career games.
Why Verlander should have won:
A) He got batters to swing at 37.9 percent of his fastballs thrown out of the zone, his highest fastball chase rate this season.
B) His fastball had its most movement of the season (minus-7.4 inches of horizontal break, 11.8 inches of vertical break -- both season highs).
C) He allowed zero "well-hit" balls in play, the third time he has done that in a game over the past five seasons (also in 2009 and 2012).
D) He did not face a batter with a runner in scoring position the entire game, the first time he has done that this season. Royals hitters were 0-for-8 with five strikeouts with a man on first base against Verlander.
• Eric Hosmer got a face full of barbecue sauce and loved it, Sam Mellinger writes.
Around the league
• Billy Butler is miffed by Robinson Cano's second snub.
• We had Rays GM Andrew Friedman on the podcast Wednesday, and besides talking about David Price and Wil Myers, he discussed an imaginative approach to restructuring the draft.
• The Pirates took it to the Giants 12-8, and by the end of the game Starling Marte had finished with four runs; he's on a trajectory that would take him to 105 for the season.
• Marco Scutaro might have a bent finger forever.
• Dustin Ackley has been moved to the outfield.
• If somebody had told you before the year started that Daniel Nava and Alfredo Aceves would be responsible for one of the biggest wins of the year for the Red Sox, you would have thought him/her crazy. But that's exactly what happened Wednesday. Nava's manager would vote for him for the All-Star Game.
• Yasiel Puig is out with a strained shoulder. This time, there was no brawl, and the Diamondbacks got a big win in extra innings.
Kirk Gibson said, again, that his team was not headhunting.
My guess is that the Dodgers will resume this discussion -- a polite way of referring to this -- the next time that Ian Kennedy pitches.
Moves, deals and decisions
1. A Giants pitcher was suspended.
2. Andy Dirks is getting some time off.
3. The Cardinals are moving quickly in signing their draft picks, writes Derrick Goold.
4. The Rockies signed their No. 1 pick for a whole lot of money.
Dings and dents
1. Ian Kinsler could rejoin the Rangers as soon as this weekend, writes Evan Grant.
2. Wilson Ramos suffered a setback, James Wagner writes.
3. Danny Espinosa is about to begin his injury rehab.
4. Chase Utley took some swings.
5. Clay Buchholz keeps getting backed up because of his injury issue.
6. Lou Marson continues to have shoulder pain, Sheldon Ocker writes.
7. Ryan Braun's hand is not improving, writes Todd Rosiak.
Wednesday's games
1. The Padres had a great series against the Braves.
2. The Nationals got a badly needed boost from Ross Ohlendorf.
3. Watched a lot of the Mets' win against the Cardinals, and Dillon Gee was excellent.
4. Erick Aybar was The Man for the Angels.
5. The Astros keep picking on the Mariners. Jordan Lyles struck out a bunch of guys.
6. The Rangers are scuffling.
NL East
• It was a bad day for Charlie Manuel, Matt Gelb writes.
• Ike Davis is going to get a chance to try to play through his mistakes, writes Andrew Keh.
• Zack Wheeler's toughness will help him in the big leagues, says his Triple-A pitching coach.
• The Braves haven't decided what they're going to do with the rotation.
• B.J. Upton has been turning it around.
NL Central
• Pirates prospect Josh Bell is starting to hit, writes Karen Price.
The Reds are just about unbeatable in Wrigley, John Fay writes.
How Reds starter Mike Leake beat the Cubs on Wednesday:
A) Cubs hitters were 0-for-6 with men on base, and did not have a man reach scoring position.
B) Cubs hitters were 0-for-10 with five strikeouts in at-bats ending with an off-speed pitch. All five strikeouts came against breaking pitches (three sliders, two curves).
C) He threw 59 of 103 pitches (57.3 percent) to the outer third or farther away. Cubs hitters were 1-for-11 in at-bats ending with a pitch in that location.
NL West
• For the Giants, the problems continue, Henry Schulman writes.
AL East
• The Orioles have baseball's best defense.
• Tim Britton writes about how advance scouting translates for the Red Sox.
• The Blue Jays' starting pitching has just not been good.
• Luke Scott is trying to fight through his slump.
AL Central
• Ubaldo Jimenez got some power support.
• Terry Francona is confident that the left side of the bullpen will figure it out.
• A Twins pitching prospect has endured growing pains.
• The White Sox have changed their draft strategy.
AL West
• Oakland continues to beat the heck out of the Yankees, Susan Slusser writes.
• Sean Doolittle is working through some issues, John Hickey writes.
• The Mariners' closer was the last to leave the dugout, which is never a good thing.
• Baseball might be Jurickson Profar's second-best sport.
Other stuff
• Many years ago, Mike Mussina told me that when he retired, he hoped to coach high school basketball in his hometown. And now he'll live out that dream.
• A county chairman has an idea to move the Cubs out of Wrigley Field.
• The Rockies may renovate Coors Field, writes Troy Renck.
• I think I will have to fight Jim Caple for this assignment.
• Jake Peavy is going to do something really nice.
• Mariano Rivera did a really cool thing for an Oakland employee.
And today will be better than yesterday.