CHARLOTTE, N.C. -- Cam Newton has been described as a one-of-a-kind quarterback, or as Hall of Fame wide receiver Cris Carter said of the Carolina Panthers star before Super Bowl 50, "God's not making another Cam Newton for a long time."
Christian McCaffrey has been called a one-of-a-kind running back, or as former Carolina back Jonathan Stewart said earlier this year, "Your talent, no one has seen it before."
Put the two together and you have ... well, one of the most dangerous quarterback-running back combinations in the NFL.
"It's a monster," said Los Angeles Rams coach Sean McVay, who faces Carolina's dynamic duo in Sunday's opener at Bank of America Stadium.
McVay has a potent combo himself in quarterback Jared Goff and running back Todd Gurley. They have the third-most passing-receiving yards (1,368) by a quarterback-running back combination since 2017.
Newton and McCaffrey rank second, according to ESPN Stats & Information research, with 1,419 yards during that span. They trail New Orleans' Drew Brees and Alvin Kamara, who have 1,535 yards.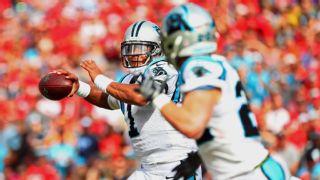 Last season, Newton and McCaffrey led all quarterback-running back combos in receptions (94), receiving yards (768) and yards after the catch (749) in their first season under new offensive coordinator Norv Turner.
What separates the Newton-McCaffrey twosome is the 2015 NFL MVP's ability to run.
No quarterback has rushed for more than his 4,808 yards or scored more rushing touchdowns (58) since Newton entered the league in 2011 as the top pick.
Since McCaffrey joined him in 2017, Newton has rushed for 1,242 yards, compared to 34 for Brees and 71 for Goff.
This gives the Panthers two double-barreled threats in the backfield instead of one, something few teams can claim. Pro Football Focus already rates the duo as the most dangerous running tandem in the league -- period.
"Cam is not just a quarterback," said Carolina Pro Bowl defensive end Gerald McCoy, who faced this duo four times the past two seasons with the Tampa Bay Buccaneers. "When you have a guy of his skill set, he becomes a weapon. You could argue he's the greatest weapon we have in this league because of his size and his speed.
"Christian is not just a great running back. To have a guy who can run in between the tackles, run outside the tackles, throw him screens and split him out wide, and then that same person don't drop no passes -- none -- all season, that's a weapon.
"So you've got two people that are weapons and they're behind the brain of Coach Norv, it's scary."

Chess game
Here's an example of what McCoy saw last season when he played for Tampa Bay.
The Panthers faced second-and-6 from their own 29-yard line during a Week 9 game against the Bucs. Newton was in the shotgun and McCaffrey lined up to his right when DJ Moore motioned from the left wideout spot directly behind the quarterback.
Newton faked a handoff to McCaffrey, moving to his left. He then took a couple of steps to his right, moving in the same direction as Moore.
With Bucs defensive end Vinny Curry bearing down hard as the Tampa Bay defense for the most part went right, Newton lofted a pass that sailed 9 yards to McCaffrey, still 7 yards deep in the backfield to the left. (Plays below provided by NFL Next Gen Stats.)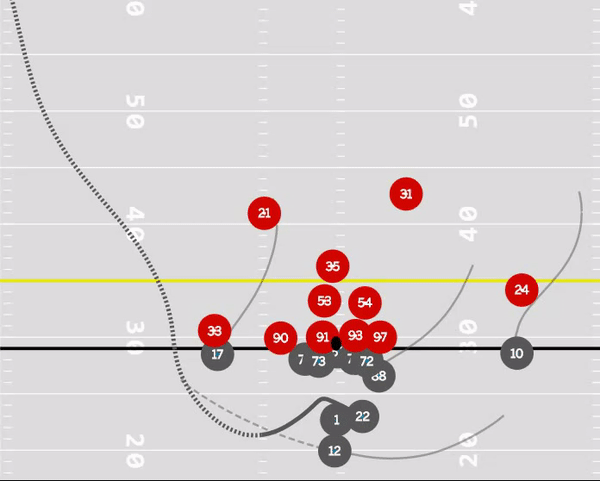 That turned into a 32-yard gain by McCaffrey, who leaped over defensive back Carlton Davis near the line of scrimmage.
"It's a nightmare," McVay said of having to defend McCaffrey on top of Newton.
That the ball was caught so deep in the backfield shouldn't come as a surprise. Over the past two years, no QB-RB combo has connected for more passes (90) behind the line of scrimmage than McCaffrey and Newton, according to ESPN Stats & Info. research.
That the Bucs had to respect Newton as a runner and passer on the initial fake is what makes these two harder to defend than most.
"Those guys are dynamic as a pair because there are so many things you have to think about when you face them," Panthers cornerback Donte Jackson said. "I'm taking 1 and 22 over anybody."
The combo went from dangerous to lethal last season after the Panthers released Stewart and made McCaffrey the lead back. He didn't disappoint, setting an NFL single-season record with 107 catches for 867 yards and ranking sixth in the league with 1,098 yards rushing.
Former San Francisco 49ers star Roger Craig, the first person to top 1,000 yards rushing and receiving in the same season, says he believes McCaffrey will become the third to reach that milestone.
McCaffrey was on the field 91.3% of the snaps last season, which means defenses seldom had a chance to relax.
Newton can't say enough about what McCaffrey has meant to his career, particularly in terms of becoming more efficient. Newton had a career-best 67.9 completion percentage last season after averaging 58.5 his first seven seasons.
"An outlet, safety valve, rescue button, life harness, an easy button, old go-to," Newton said. "C-Mac is a person ... who is very consistent, reliable and understanding of the game of football.

Recipe for success
Newton lined up in the shotgun with McCaffrey to his left on first-and-10 from the Dallas 42 of last year's opener. He faked a handoff to McCaffrey going right and most of the defenders went with the back, leaving a lane on the left side big enough to drive a semi through.
Or at least a 6-foot-5, 240-pound quarterback who rambled for 29 yards before going out of bounds.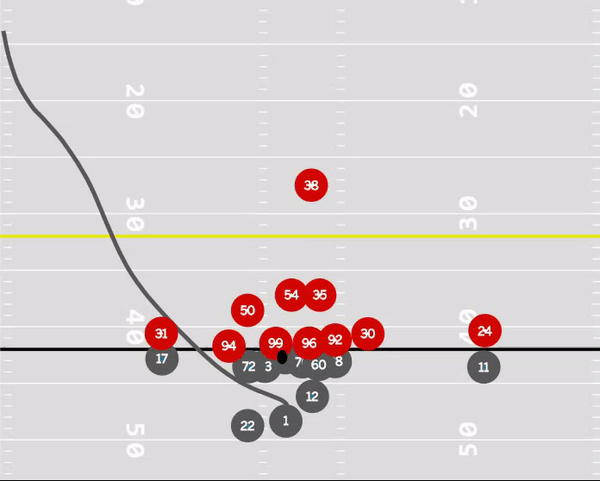 "Besides being able to make every throw, he actually can run the ball like a back," Jackson said. "That's a recipe for any great duo. Somebody who can run the ball and make every pass, and somebody who is as dynamic as C-Mac, that's a hard-to-beat combination."
Over the past two seasons, McCaffrey and Newton have combined for 2,775 rushing yards (second in the league), 19 rush touchdowns (sixth) and 576 rushes (fifth).
"You already know playing Cam that you're going to have to look for him to scramble," Rams defensive tackle Michael Brockers said. "But having that weapon out of the backfield really makes the team dangerous and the offense dangerous because you don't know where to pinpoint."

'The Cat Pack'
Newton arrived at practice Thursday wearing a T-shirt that said, "Ace Boogie & The Cat Pack."
This came a day after Newton argued McCaffrey and wide receivers Curtis Samuel and Moore should make him the lead singer of their musical group that has been dubbed "The Cat Pack."
"If they want to sell records, if they want to get noticed ... they need to implement me in some type of way," Newton said.
Implementing Samuel and Moore, along with three-time Pro Bowl tight end Greg Olsen, makes Newton and McCaffrey more noticeable than ever.
There also are no limitations on what Turner can do in his second year with this offense, particularly with the deep pass back in his arsenal.
But it all starts with Newton and McCaffrey. Turner compared it to his time at San Diego with Philip Rivers at quarterback and LaDainian Tomlinson at running back -- except Rivers wasn't a threat as a runner.
"They feed off each other," Turner said of Newton and McCaffrey.
And that creates something that keeps McVay and other opposing coaches up at night.
"We know all the problems [Cam] poses as a quarterback," McVay said. "So when you've got Cam, you've got a guy like Christian, Greg Olsen and some young playmakers on the perimeter, you can see why this offense is going to be a nightmare to deal with."