OKLAHOMA CITY -- Taj Gibson was still trying to wrap his mind around what he had seen as the old elevator at the Skirvin Hotel gingerly opened its doors Wednesday morning. The rookie from USC had heard the stories about the old hotel being haunted, and now he had one of his own that surely would add to the myth.
"At one point, at around 12:15 at night, my bathroom door just slammed completely shut," he said. "I don't know what it was, but it just completely slammed. It took me a minute to kind of figure out what [it] was."
[+] Enlarge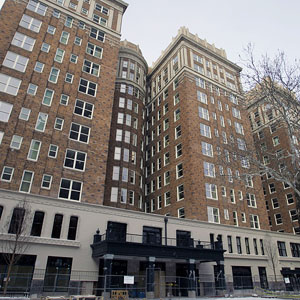 AP Photo/Sue Ogrocki
Some say the Skirvin Hotel in Oklahoma City is haunted, but it didn't prevent the Bulls from getting a good night's sleep.
Derrick Rose heard the ghost tales from all the locals, as well.
"If everybody in the town is saying it, then it's got to be true." Rose said after Wednesday's shootaround."I don't care whatever somebody said on this team, I believe in stuff like that. It was scary [Tuesday] night."
The reigning rookie of the year wasn't about to take any chances that a ghost would come and visit him in the night, so he roomed with rookie forward James Johnson, who happens to have an extensive background in martial arts, just in case.
"We were watching [out for] each other," Rose said with a laugh. "We were just up on the computer just talking, just having fun the whole night."
The young Bulls also confirmed that they heard the same noise Gibson was describing.
"Me and JJ heard some stuff in the hallway last night, too, but it was late," Rose said. "We didn't say [anything] about it last night, but we heard some stuff."
Although Gibson still doesn't sound completely convinced that the old hotel is haunted, he is confident that it is different from most of the hotels the players usually stay at.
"I try not to believe it, but anything's possible," Gibson said of the Skirvin stories. "But [Tuesday] night was kind of a weird feeling, to have a door just slam out of nowhere."
"It's just totally different," Rose said while describing the hotel and the city itself. "It's more country, I'd say. It's just way different. It's different from Chicago."
When I asked Bulls coach Vinny Del Negro whether he was worried that any of his players didn't get a good night's sleep, his answer was quick.
"No," he said. "No. Everything's good. That's crazy."
Although Del Negro might not believe in ghosts, it's safe to say Gibson and several of his teammates are ready to get to New Orleans in advance of Friday's game.
"Yeah," he said with a smile. "I just want to see other cities right now."