[+] Enlarge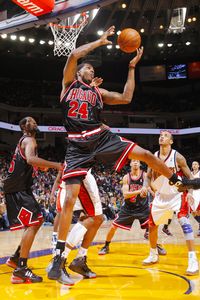 Rocky Widner/NBAE/Getty Images
Lately, Tyrus Thomas' energy has been up and down, and he has struggled to find consistent minutes from coach Vinny Del Negro.
LOS ANGELES -- What do you do with Tyrus Thomas?
It's the question that has hovered over the Bulls for a few years and it's one that continues to pop up as the season rolls along. When Thomas came back from a broken forearm last month, many thought that he would give the Bulls the type of energy boost that they had been missing. He did for a while; over his first four games, the Bulls went 4-0 and Thomas played very well. He was active on the floor and managed to score 21 points in a win over the Hornets on Dec. 26.
Four weeks later though, Thomas doesn't look like the same player.
Once again, his energy has been up and down, and he has struggled to find consistent minutes from Bulls coach Vinny Del Negro. After taking 17 shots in his first game back on Dec. 26th, Thomas has taken just 16 over the last three games, making only five of them. Del Negro was asked about Thomas' performance lately after practice on Tuesday, and it's clear if you read between the lines, the head coach is frustrated with the fourth-year pro.
"It's just a matter of working your minutes when you're out there," Del Negro said. "Running the court, getting after it defensively. Being committed to what we're doing. Executing the game plan, and hustling and playing hard. Doing the things that help us win basketball games. And the guys that are out there, that are going to do that on a consistent basis, will get more minutes. That's just the way it works. Like I said from Day One.
"We need his activity. We need him to play well, just like all the other guys. It's not about scoring. It's not about shooting and getting your shots. It's about being a good teammate, playing the right way and when there's opportunities to score and block shots, or run or make the right pass, or handle the basketball or whatever & you have to make plays. We need Tyrus to go back to doing that. And a few other guys as well."
Simply put, Del Negro wants Thomas to earn his minutes, and it sure doesn't seem like he has done that over the past couple of weeks. As Del Negro, and plenty of other people have pointed out, though, the Bulls need Thomas to play well if they're going to be successful.
If not, it's going to be a painful road trip for the Bulls, and in the long term, it could also finally mark the end of Thomas' tenure in Chicago, because the Bulls may believe that they have finally seen enough.