[+] Enlarge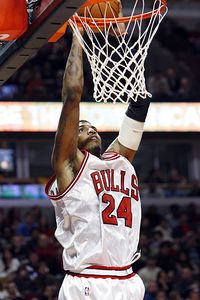 AP Photo/Nam Y. Huh
Tyrus Thomas chipped in 21 points and nine rebounds in his first game back after suffering a broken arm.
Tyrus Thomas was the answer to all the Bulls' problems -- at least for one night.
Playing in his first game since breaking his forearm in early November, the young forward scored 21 points and grabbed nine rebounds as the Bulls rolled to a much-needed 96-85 victory. Thomas played with the type of energy that his beleaguered team has been sorely missing over the past few weeks, and gave Bulls fans hope that the struggling team may finally be able to turn things around.
"You saw what his athleticism does for us," Bulls coach Vinny Del Negro said. "I thought he was very productive. He had a few turnovers in the first half, but it's going to happen when you've been out that long. His activity was important. Just some lay-ups on the break and some dunks and things, just got us going a little bit."
Thomas' presence seemed to give his teammates an extra jolt. They played with a renewed sense of enthusiasm and appeared to regain a small portion of the confidence they lost during Monday night's embarrassing 35-point collapse to the Kings. While it's still too early to tell what kind of long-term impact Thomas will have, the short-term dividends already look solid.
"It was good to have him back," Bulls center Joakim Noah said. "He brings a dimension to our team that was definitely missed and that we don't have -- his ability to block shots in transition. His athleticism out there means a lot. He played huge for us tonight. He had some big shots, played some solid defense. It's just a good feeling to get a 'W' right now and I'm happy Tyrus is back."
So is Thomas.
He couldn't stand sitting on the bench and watching his team take a nose dive in the standings. The LSU alum was just happy to be back on the floor and able to help out.
"It felt like the first day of school all day today and it was great," Thomas said after the game.
He admitted last week that he has developed more of a coach's eye for things and believes he has developed a calmer demeanor during his time away from the game.
"I had a lot of time to think, and you just think that some guys have season-ending injuries or career-ending injuries," Thomas said. "It makes you understand what I'm here to do. Just try to take advantage of every moment."
Thomas did that on Saturday night, and now the question remains if he can bring the same kind of effort on a nightly basis. If he does, he should be able to help get the Bulls back on track.
"I was a little rusty, but you just got to keep playing hard and I think everything else will come," Thomas said of his comeback performance. "And we'll be where we need to be."