[+] Enlarge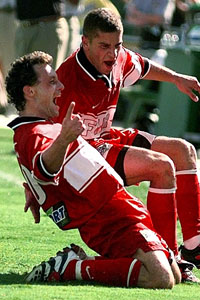 AP Photo/Michael Caulfield
Peter Nowak, left, celebrates his goal with teammate Chris Armas during the Fire's MLS Cup victory over D.C. United in 1998.
On this date in Chicago Fire history, Oct. 25, 1998, Major League Soccer's expansion Fire completed their first season in high form with a 2-0 victory over defending champion D.C. United to win the MLS Cup in front of 51,350 at the Rose Bowl in Pasadena, Calif.
D.C. won the first two MLS Cups in the league's early years, but 11 years ago a brand-new organization pieced together the right ingredients on the field to end United's reign. To this day, the Fire's first championship remains one of the most memorable in league history.
On Thursday, the Fire inducted midfielder Chris Armas to the team's "Ring of Fire" Hall of Fame, and this illustrious Hall of Fame group had a huge part in the Fire's win over D.C. in '98: Head coach Bob Bradley provided the game plan and preparation. Armas did the dirty work in silencing United's Marco Etcheverry. Peter Nowak was the playmaker, assisting both Fire goals -- Jerzy Podbrozny in the 29th minute and Diego Gutierrez in the 45th -- to earn MVP honors for the match.
The Fire's first season had its share of highs and lows, but they had a superb regular-season stretch from mid-May to early July, when they were unbeatable.
"When we won 11 games in a row, we had that stretch where we won a lot of games," said Fire head coach Denis Hamlett, who was assisting Bradley in '98. "We thought then that we had a good team, and we came together. That was a long time ago. Obviously those are very special memories. That was a special group that came together and won two championships [MLS Cup and the U.S. Open Cup]."
This 2009 MLS season, expansion the Seattle Sounders FC has qualified for the playoffs and is not playing like a typical expansion club. The Sounders have a mix of solid veterans and young playmakers. They have head coach Sigi Schmid, who coincidentally surpassed Bradley's MLS record regular-season wins total Saturday.
Should Seattle make a deep run into the playoffs, the correlation between the 2009 Sounders and 1998 Fire will pick up. But around these parts, that first Fire squad was an original.