A week after the Jim Thome drama concluded, the White Sox have decided to table their search for a left-handed-hitting RBI bat until it's determined if the rotating designated hitter that manager Ozzie Guillen envisions will be a functioning tool for the 2010 season.
[+] Enlarge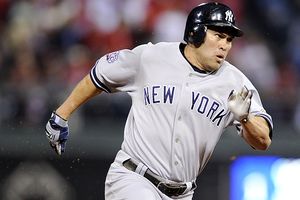 Howard Smith/US Presswire
Though the White Sox usually stay away from agent Scott Boras' clients, Johnny Damon could be an intriguing choice for the South Siders.
The White Sox looked at the viability of former New York Met and Toronto Blue Jay Carlos Delgado, who missed the majority of the 2009 season because of injuries. The White Sox had a scout watch Delgado during his stint playing winter ball in Puerto Rico. The consenus opinion is that Delgado did not have the legs and athleticism to play first base even in a part-time role.
That opinion moved the White Sox away from making a bid.
At this juncture, the White Sox are not interested in any of the other left-handed RBI bats on the market. That includes former Texas Ranger Hank Blalock and former Seattle Mariner Russell Branyan.
One intriguing player that they will keep an eye on is former New York Yankee Johnny Damon, although the Sox usually stay away from agent Scott Boras' clients.
Damon has had trouble finding a match in this particularly sluggish free-agent market. At age 36, the former speed and power outfielder appears to show some deteriotation in both areas. However, he hit 24 home runs while driving in 82 runs and batting .282 for the Yankees in 2009.
One aspect of his game that appears to have diminished is his ability to steal bases. Damon's 12 steals were the fewest he had since his rookie season with the Kansas City Royals in 1995. There's no doubt that Damon's ability to play the outfield makes him a more viable addition to the DH rotation than Guillen envisions.
The reality of Damon taking a huge cut in pay from making double-digit million dollars to a deal that would pay him $2-3 million might be a reach.
Meanwhile, the White Sox will continue to look at adding a middle reliever via trade. The San Diego Padres and Blue Jays are two teams that will engage in conversations about their bullpen pitchers. It is known that the Padres will converse about the availablity of Heath Bell and Luke Gregerson.
Toronto has had discussions with several teams about their relievers, including Jason Frasor and Scott Downs. Both teams are looking for young pitching in return for their middle men.
The White Sox could definitely use a left-handed situational bullpen pitcher to battle 34-year-old veteran Randy Williams for that position. Downs would certainly be an upgrade if a deal could be struck.