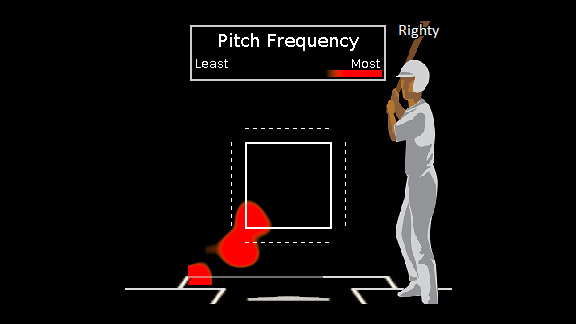 This shows where Sergio Santos most frequently locates his slider when he has a right-handed batter in a two-strike count, an area in which hitters have minimal, if any, success.
One of the pitches for Thursday's "Baseball Tonight" is a segment on the best strikeout pitches in baseball, and Chicago White Sox reliever Sergio Santos' slider rates the best of the best.
ESPN's Stats & Information Group broke down its pitch performance data and looked at strikeouts by pitch type, compared to the number of two-strike pitches thrown with that particular pitch. A good "putaway rate" with a pitch is upwards of 30 percent. The major league average for all pitches is just below 20 percent.
In Santos' case, he's thrown the slider 101 times with two strikes this season and netted 47 strikeouts, most recently whiffing Royals rookie Mike Moustakas in the ninth inning on Monday. Santos' "putaway rate" with the slider is 47 percent (47 divided by 101). No pitcher in baseball has a better putaway rate with any pitch than that. The next closest is Braves reliever Jonny Venters, whose slider putaway rate is 44 percent.
The image above shows where Santos most-frequently locates his two-strike slider to right-handed hitters. Basically it's an untouchable pitch when he's in a favorable situation. Opposing right-handed hitters are 0-for-36 with 32 strikeouts when in a two-strike situation against Santos this season.
Lefties have a better chance to get a two-strike hit against the slider, but not much. They have three two-strike hits against the slider, but also have 15 strikeouts. In fact, though he doesn't throw the pitch anywhere near as frequently to lefties with two strikes, Santos' putaway rate with the slider is actually better against lefties (54 percent) than righties (44 percent).