GREENSBORO, N.C. -- Coach Mike Brey swung the freshly clipped nets around like a helicopter after the Notre Dame Fighting Irish claimed the ACC tournament championship with a 90-82 win over the North Carolina Tar Heels on Saturday night.
Notre Dame is ready to challenge the adage that defense wins championships. Brey has bet it all on offense this season, going with a four-guard offense. He has developed the best Irish team of his tenure and one fully capable of ending the program's futility in the NCAA tournament.
The Irish have already ended their 18-year drought when it comes to conference tournament championships. Notre Dame never made it to the final game of the Big East tournament, but in its second year in the ACC, it earned a banner hoisted by offensive firepower.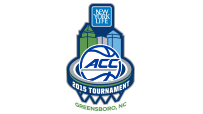 "9-0 on that board, baby," Brey said. "That's why people love watching us play. We score the ball, and I figured we were going to have to score to get out of here 'cause they were going to beat us up inside."
Most teams with size are capable of beating the Irish up inside. Notre Dame ranked 111th in adjusted defense, according to Ken Pomeroy. That's easily the worst among teams ranked in the Associated Press Top 25. (Iowa State has the second lowest ranking, at 83.)
Carolina scored 46 points in the paint and shot 53 percent from the field against Notre Dame. For many teams, allowing those numbers would indicate a loss.
Although the Irish don't happily concede that their defense can be suspect, they essentially don't care. They feel most teams can't stop them from scoring.
"Offensively, I feel like we're the best team in the country," said senior guard Jerian Grant, who scored a team-high 24 points. "It's going to take us a long way. You have to guard all five of us. One thing about it: We have to get stops because I feel like, when we rebound and run, no one can stop us."
Brey's teams have consistently been ranked among the best in adjusted offense. This year marks the seventh time since Pomeroy began advanced stats in 2002 that the Irish have ranked in the top 15 nationally. It's also the second time they've been No. 2 (Wisconsin is No. 1), with the only other being in 2011.
The Irish went into the 2011 NCAA tournament as a No. 2 seed and were promptly ousted by Florida State in the second round. Winning the ACC tournament might have positioned them for a No. 2 seed again, and Brey believes his offense can carry the team to the Sweet 16 for the first time since 2003 and possibly beyond.
"We play with a free mind, and this group moves it probably better than any group I've had -- and I've had really good offensive teams over the years," Brey said. "But this group is really special, especially with Demetrius [Jackson] and Jerian being able to really probe hard off the dribble."
It all starts with the seniors. Grant easily could have been the ACC's Player of the Year, with the way he's elevated the team. The 6-foot-5 guard, who led Notre Dame in both scoring (16.6) and assists (6.5), entered the title game having accounted for 42.5 percent of his team's total points this season.
Pat Connaughton will be pitching in the Baltimore Orioles farm system very soon. But for now, he's an undersized "power forward" who creates matchup nightmares for opponents. The 6-foot-5 senior led the Irish in made 3-pointers and 3-point percentage, with a 42.6 percent clip. He allows Notre Dame to play small by holding his own inside and is averaging a team-leading 7.5 rebounds per game.
With Grant and Connaughton setting the tone, the Irish don't panic. They trailed Carolina by nine points midway through the second half, and the partisan crowd in the arena was starting to sense a victory, but Notre Dame's offensive burst buried the Heels. The Irish have become accustomed to those scoring flurries, though most aren't necessarily as big as the 24-3 run that put the game away.
"It's the will to win. We knew we were going to give up a little bit, but it's that whole mentality -- bend don't break," said Connaughton, who had 20 points. "This team has been doing that all year. We've been down a lot of points in different situations, and we've come back when no one thought we could."
There's little reason to doubt the Irish can win without a stout defense now. They proved it by mowing through Duke and North Carolina in the heart of Tobacco Road to win the ACC tournament title.