Prior to Friday's decision to dismiss Tyler Smith, Tennessee coach Bruce Pearl told ESPN.com there might be fairly different levels of involvement in the case and that could lead to different decisions. He said no decision had been made regarding Sunday's Kansas game, but that the three other players -- Brian Williams, Cameron Tatum and Melvin Goins -- remained indefinitely suspended.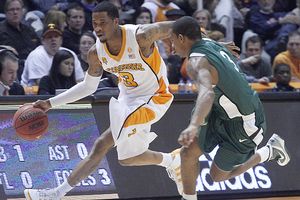 AP Photo/Wade Payne
Bobby Maze must limit his turnovers for Tennessee to have a chance against KU.But it seemed highly unlikely any of the three remaining players would be cleared for what is easily the biggest nonconference game on Tennessee's home schedule.
Pearl said the crowd for Wednesday's win over Charlotte was a great help, rallying around the depleting Vols, especially once their huge lead was cut to six in the second half. Pearl said he anticipated a similar type of reaction from the Volunteer fans for the KU game. Tennessee had just six scholarship players for the Charlotte game and may have the same against the top-ranked Jayhawks.
For the Vols to have a chance forward Wayne Chism will have to rebound against Cole Aldrich, Pearl said. Scott Hopson and Renaldo Woolridge will have to make 3-pointers and Bobby Maze must limit turnovers against KU's Sherron Collins. Maze had only one turnover against Charlotte on Wednesday. J.P. Prince will also have to find ways to score. The Vols did defend well against the 49ers by limiting them to 27.6 percent on 3s, 36.2 percent overall. But obviously there is a talent upgrade with the Jayhawks.
Meanwhile, according to a number of NBA sources, Smith was already becoming a marginal draft pick with his play this season. He declared for the NBA draft in the offseason, but withdrew mainly because he wasn't getting any traction on being a first- or even second-round draft pick. Smith was averaging 11.7 points, 4.7 rebounds and 3.7 assists a game this season. All but his assist numbers were down from 2008-09, when he averaged 17.4 points and 5.8 rebounds a game.
One NBA personnel source said that executives will have to decide if Smith is worth digging into the facts of the case. The source said many times a big man is more often given the benefit of the doubt than a wing (where there are countless options) unless they are an exceptional talent.
Tennessee was projected to be Kentucky's toughest nemesis in the SEC East with its full compliment of players. But if Williams, Goins and Tatum don't return, the Vols will likely be vying with Florida and Vanderbilt, desperately trying to separate itself from the pack. In its three most significant nonconference games, Tennessee lost by 22 points at USC, lost by one to Purdue at the Paradise Jam, and won at Memphis on New Year's Eve day. The Vols open the SEC against Auburn on Jan. 14.