INDIANAPOLIS -- A word of advice for Ohio State's upcoming opponents in the NCAA tournament.
Think twice before talking trash, especially to superstar Evan Turner.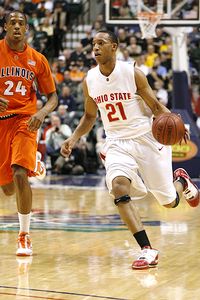 Brian Spurlock/US Presswire
Ohio State's Evan Turner turned in another solid performance to help the Buckeyes advance to the Big Ten championship.Illinois learned that lesson the hard way in Saturday's Big Ten tournament semifinal. As the Illini raced out to a 37-31 halftime lead and shot 46.2 percent from beyond the arc, they let Turner and his teammates know about it.
"They were just running their mouths, just too much, that was it," Turner said. "They were hitting shots. They're frontrunners, and they were running their mouths entirely too much."
Turner still seemed upset by the talk, even after Ohio State finished off an 88-81 double-overtime win to advance to Sunday's tournament championship game. He showed much more emotion than normal in the second half as Ohio State took control with a 20-0 run, saw the lead slip away, and still found a way to prevail.
"It definitely got me going," Turner said. "For them to start running their mouths and stuff, it really, really annoyed me. When they were talking to me, I thought about all the things we'd been through. I started thinking about all the sand pits, all the injuries, we always battled through that.
"I knew the type of team we had, and I knew what we had was way tougher than what they had."
An annoyed Turner still proved to be a very good one, as he recorded 31 points on 10 of 18 shooting, and added 10 rebounds, six assists and two steals. The National Player of the Year frontrunner scored 21 points in the second half of regulation and the two extra sessions before fouling out with a minute left in double overtime. Almost every time Ohio State needed a big basket, Turner provided it.
Players on both teams agreed the trash talk exceeded normal limits. Illinois forward Mike Davis said the officials warned players multiple times.
"It was so competitive out there, that we were all talking and trying to win the game," Davis said. "We've played them three times, they beat us twice, they definitely like to talk trash and we weren't just going to back down.
"[Turner] took over the game in the end and got the win."
For a while, Illinois seemed to rattle Turner, who committed five first-half turnovers and 10 for the game. He coughed the ball up just before halftime and started jawing with Illinois' D.J. Richardson on his way to the tunnel.
"We got in his head a little bit and made him frustrated, made him turn the ball over," Illini guard Demetri McCamey said.
Turner continued to stew in the Buckeyes' locker room well after the final horn.
"I don't like people talking," he said.
Turner and the Buckeyes once again made the loudest statement, as they push for a possible No. 1 seed in the NCAA tournament.
"[Illinois] decided to talk a little bit," Buckeyes wing David Lighty said. "But they can't say nothing now. Who won the game?"
Illinois now will wait for its NCAA tournament fate after missing several excellent chances to record another signature win. The Illini certainly looked impressive at Conseco Fieldhouse, and with five wins against top 50 RPI teams, they have a strong case for the bracket.
"Definitely, in my mind, I believe we're one of the top 65 teams in the country," McCamey said. "But it's not up to me."