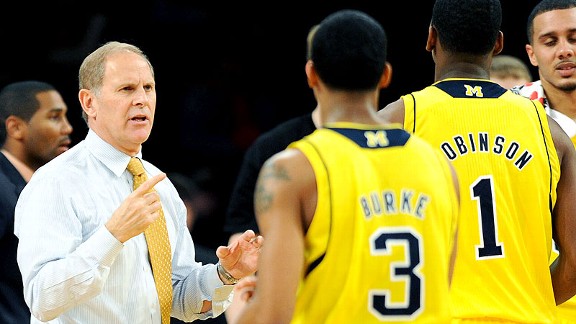 Joe Camporeale/US Presswire
John Beilein has his team playing a different style than it did in year's past.(No. 3 Michigan hosts No. 18 North Carolina State, Tuesday at 7:30 ET on ESPN.)
The Michigan Wolverines are playing like a legitimate Final Four contender, their impressive play a result of two key factors: efficient offense and much-improved rebounding.
The Wolverines are among the most efficient offenses this season, averaging 124.5 points per 100 possessions. That's the fourth-highest in the country.
Only Indiana, Ohio State and Pittsburgh have been more efficient.
Michigan's offense has been so prolific because the Wolverines are adding a lot of easy baskets in transition. Twenty-five percent of their points have come in transition, and they're shooting 70 percent on those plays.
The Wolverines have done so playing at a higher pace than they ever have under head coach John Beilein, averaging 65 possessions per 40 minutes this season, three more than last season.
Most Pts per Play vs Man D This Season
With a faster pace and more transition opportunities, the Wolverines have to rely less on executing in the half-court.
When they do have to execute in the half-court, the Wolverines have been terrific against man-to-man defenses. In fact, they have the most efficient man offense in the country, averaging more than a point per play and shooting 54 percent.
Beilein's Offense Getting Better & Better
Michigan's man offense has been so efficient because the Wolverines are getting to the basket more and settling for four fewer jump shots per game than they did last season.
Michigan Points per 100 Possessions
Last 4 seasons
After averaging 97 points per 100 possessions in Beilein's first season on campus, which ranked in the bottom third of the country, the Wolverines are playing a much faster game and their offensive efficiency has improved each of the last three seasons as noted in the chart on the right.
Improved Rebounding
Michigan ranked outside the top 200 in rebound percentage in each of Beilein's first five seasons, but is grabbing 57 percent of the available rebounds this season. That's the 24th-highest percentage in the country.
One reason for the improvement is the boost the Wolverines are getting from their freshmen.
Mitch McGary ranks fifth nationally in offensive rebound percentage and 40th in defensive rebound percentage.
He and Glenn Robinson III are the team's best two rebounders per 40 minutes of Wolverines with at least 25 minutes this season.
McGary averages 17.3 rebounds per 40 minutes, second-most in the country among players with at least 60 minutes (Maryland's Charles Mitchell averages 17.5).
The Wolverines have already passed their first two major tests against Pittsburgh and Kansas State. If they can pass their one against North Carolina State on Tuesday, then there's a great chance the Wolverines will enter Big Ten play undefeated.