JACKSONVILLE, Fla. -- Nolan Smith acknowledged it's hard to walk around Duke's campus or anywhere in Durham without somebody asking when the Blue Devils will make another deep NCAA tournament run.
"People definitely try and put a lot of pressure on us," Smith said. "You just look at them and say, 'OK, we'll try.'"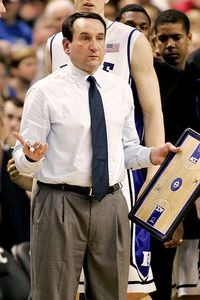 Andrew Synowiez/US Presswire
Duke coach Mike Krzyzewski doesn't believe the talk the Blue Devils got a "favorable" draw.
Duke fans are understandably anxious to see their team get back to its traditional March success. They used to be able to count on Final Four runs arriving more frequently than congressional elections, as the Blue Devils reached the tournament's final weekend 10 times between 1986 and 2004.
But the program that used to own this month has fallen on hard times, relatively speaking. Only once since the 2001 title has it gotten past the Sweet 16, and the Blue Devils have not beaten a team seeded higher than fifth since that championship run. No one on the current roster has ever won a game beyond the first weekend, which would make for some awkward chit-chat at future team reunions.
"That's why we came to Duke," junior forward Kyle Singler. "You want to be the team that makes it to the Final Four."
So is this year's edition that ends the dry spell, or is it just another overrated, overseeded Duke squad destined to fall short? Critics have already wondered if the Blue Devils were more deserving than West Virginia of a No. 1 seed, and their path to Indianapolis couldn't offer much less resistance. With a weak No. 2 seed in Villanova -- which needed overtime to beat Robert Morris on Thursday -- and a No. 4 seed in Purdue that's missing its best player (the injured Robbie Hummel), everybody agrees that the Blue Devils got the most favorable draw in its South Region. Well, everybody but Mike Krzyzewski.
"It has nothing to do with anything," Krzyzewski said when asked about the perception that his team has it made. "It doesn't mean anything, and you can't focus on things like that."
Duke's players don't want to focus on their recent disappointments either, but it's a subject that's hard to avoid.
"We haven't made a run [lately] and that's a fact, but you can't worry about that," Singler said. "It's just something that you have to accept."
This year's team went 29-5 and won the ACC regular season and tournament titles but was blown out in its toughest nonconference game, at Georgetown. And it was a down year in the ACC.
On the plus side, recent Blue Devils teams relied almost exclusively on the perimeter shot and got pushed around by bigger and more athletic teams. This year's Duke is more effective inside with the emergence of senior Brian Zoubek as a rebounding force, as well as 6-foot-10 freshman Mason Plumlee. The Blue Devils led the ACC in rebounding margin (plus-6.0) for the first time in 21 years. They also allowed just 61.7 points per game, their lowest amount in 60 years.
So even if one or more of the team's Big Three -- Singler, Smith and Jon Scheyer -- aren't hitting the outside shot, this team has other options.
"We've had games where we shot terrible but still won the game by 15 points," Smith said. "And that's because of defense and rebounding."
Friday's first-round game against Arkansas Pine-Bluff doesn't figure to offer too stiff of a challenge, but the Golden Lions are at least mentally tough. They opened their season 0-11 while playing on the road against the likes of Kansas State, Oklahoma State, Missouri and Arizona State. They didn't play their first home game until Jan. 16, yet they went on to win the SWAC and handily beat Winthrop in Tuesday's opening-round game.
"I looked at [the schedule] and I asked coach, 'Where are the home games?'" senior guard Terrence Calvin said. "But I think it was good for us."
Perhaps it's fitting that Duke begins its latest tournament against a team whose initials -- APB -- could represent a search call for the Blue Devils' previous success. If this team with this draw can't make a deep run, it's fair to ask when it will happen again.
"We're not trying to make up for what we did the past three years," Duke senior Lance Thomas said. "This is a new team, and we're just going to take that and keep moving forward."