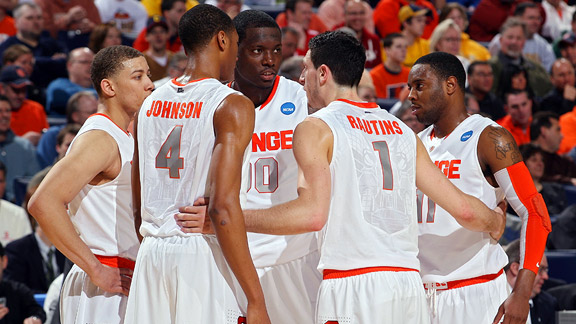 Rick Stewart/Getty Images
Syracuse's Wes Johnson (4) really came through for the Orange, playing all 40 minutes in their 87-65 win over Gonzaga.
BUFFALO, N.Y. -- There was a point this season when Wes Johnson couldn't even pick up his laptop. His hand, injured in a fall at Providence, was swollen and sore to the point of uselessness.
When he went up to shoot, he could barely feel the ball in his hand. When he went to practice, there was more he couldn't do than he could do.
Note to the teams heading to Salt Lake City: His hand is all better now, thanks.
Johnson scored a career-high 31 points on 11-of-16 shooting and added 14 rebounds to lead an 87-65 humiliation of Gonzaga usually reserved for first-round games.
In a game when the Orange were squeezed playing without Arinze Onuaku and relying heavily on six guys, Johnson played all 40 minutes.
"Yeah, I think it's fine now,'' Johnson said with a grin when asked about his hand.
That's almost as critical a bit of news as the status of Onuaku's leg injury.
The Syracuse nation has been obsessed with Onuaku's leg since he injured it in the Big East tournament quarterfinal against Georgetown. The Orange faithful should have been more concerned about Johnson's ability to return to form since late February.
Johnson is on the eve of becoming a very rich man in the NBA, and it's rare that a national championship team doesn't have a star on its roster.
North Carolina had a roster full of them in 2009. Ditto Kansas in 2008, Florida in 2007 and 2006, North Carolina in 2005, and Connecticut in 2004. In 2003, of course, Syracuse had Carmelo Anthony.
As well as all the parts working together for Syracuse, they work a whole lot more effectively when Johnson plays as he did against the Bulldogs.
Only Blake Griffin (30 points, 14 rebounds, 80 percent shooting against Syracuse, and 33 points, 17 rebounds, and 70 percent shooting against Michigan in 2009) has had a more productive NCAA tournament day since 2000.
"If he hadn't had this injury, he would be up at an even higher level now than he is,'' Jim Boeheim said. "He was playing at a really high level and getting better. That just took him right back down for eight games. He's just getting back.''
Back at just the right time, too.
The Orange will need everything Johnson can give over the next two weeks. With a short turnaround here -- Syracuse plays Thursday in Salt Lake City -- it would seem a long shot that Onuaku will be ready to go. He hasn't practiced yet and Boeheim talked about the importance of getting freshman DaShonte Riley even stronger in the next week.
Syracuse can win without Onuaku -- just ask Gonzaga -- but the Orange has to win differently.
The porous Zags' defense allowed the Orange to shoot 54 percent from floor and nail 12 3-pointers, the most by a Cuse team in NCAA tournament history.
Syracuse can't count on that happening every night.
What might happen, though, is the 38 points the Zags were able to score in the paint. Rick Jackson got smacked with his third foul with 9:53 left in the half, pushing Riley into duty. He performed admirably, but he is hardly the anchor that Onuaku is, and it would be unfair to expect him to be. The freshman played in 125 minutes in the regular season.
"That never would have happened; (Arinze) doesn't allow that to happen,'' Boeheim said. "He controls that paint area. They were able to overcome it because we shot the heck out of the ball. If we don't shoot the heck out of the ball, then those points down there are really going to hurt you.''
Unless the Cuse can wish upon their star.