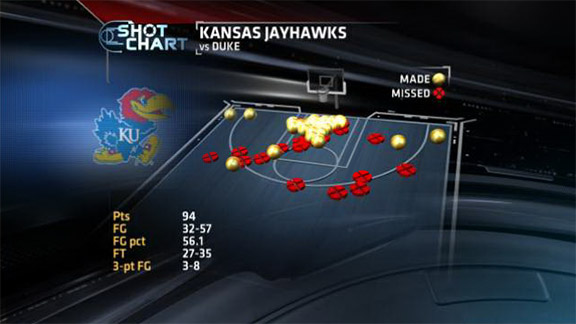 The Jayhawks dominated in the paint on Tuesday.What were the biggest keys to Kansas' 94-83 win over Duke on Tuesday night?
Andrew Wiggins got some help
Kansas freshman Andrew Wiggins was good (22 points, eight rebounds), particularly in the second half, but he had some significant help from Perry Ellis, who finished with a career-high 24 points.
Wiggins and Ellis combined to shoot 16 for 21 from inside the paint. They also dominated the transition game. Kansas outscored Duke, 19-7 in transition. Wiggins had more transition points (eight) than the Blue Devils did as a team.
Kansas outscored Duke 15-4 and outrebounded them 6-1 in the final three minutes of the game.
Parker slowed down
Jabari Parker scored 19 points in the first half, but he was held to only eight second-half points. Parker had the same number of touches in each half (17), but was 6 for 10 from the field in the first 20 minutes and only 3 for 8 in the last 20.
Ellis did the best job of stopping Parker, holding him to 2 for 6 shooting.
Parker did become the first Duke freshman with at least 20 points in the team's first two games since Luol Deng in 2003.
Did you know?
This was Duke's first loss in its last 23 regular-season neutral-court games. The Blue Devils hadn't lost one since December 20, 2007, when they lost to Pittsburgh.