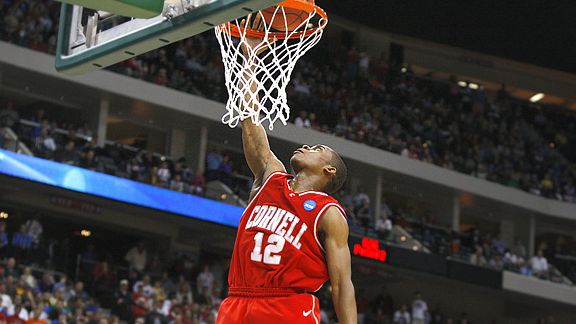 Kim Klement/US Presswire
Louis Dale's 26 points keyed a Big Red attack Sunday that tore up what had been a stingy Wisconsin defense.
JACKSONVILLE, Fla. -- As he headed back to his jubilant locker room, Cornell point guard Louis Dale stopped to sign a hat from a fan. It was a University of Alabama cap, sure, but at least it had the right red-and-white colors, and Alabama is Dale's home state.
Then another fan dropped a hat for Dale to sign. This one was blue.
"A Kentucky hat?" Dale said, incredulously eyeing the UK logo before throwing the hat back into the stands. "You've got to be kidding me. Get that out of here."
We are not kidding about this: Kentucky had better watch out for Cornell in the Sweet 16 on Thursday. After the way the 12th-seeded Big Red played this weekend in Jacksonville -- especially in Sunday's 87-69 dismantling of Wisconsin -- they must be considered as much of a threat as anyone left in the NCAA Tournament.
Temple and Wisconsin owned two of the best defenses in the country this season, according to the stats. Yet here is what Cornell did to those defenses: shot a combined 58.8 percent from the floor and 44.7 percent on three-pointers while averaging 82.5 points.
Wisconsin had allowed 70 points only three times all year, two of those coming in overtime games. Yet Bo Ryan's defense got sliced like a machete through warm gouda. Cornell shot 61.1 percent, the highest percentage by any team against the Badgers in the Ryan era.
"In our half-court defense, we thought we did some pretty good things," Ryan said. "But that's how good they are. ... I'm not sure if three or four days' [preparation] would have stopped what they do, because they just do it well."
When you think of Ivy League teams, you probably envision those old Princeton teams that worked the ball around, running backdoor screen after backdoor screen. But Cornell is far more diverse than that.
Yes, it can make a back cut with the best of them. But against Wisconsin, the Big Red scored on give-and-gos, alley oops, tear-drop floaters and in transition. Ryan Wittman (24 points) can create his own shot at 6-foot-7, and Dale (26 points) can get in the lane against anybody, as he proved repeatedly against the Badgers' all-Big Ten defensive team performer Trevon Hughes. Then there's seven-footer Jeff Foote, who eats up space on screens and is a deft passer.
"We have a lot of players who can score in a variety of ways," Foote said. "Ryan and Louis did their thing today, and when they do that, we're tough to stop."
Foote predicted at the start of the season that his team would make the Sweet 16, and Cornell became the first Ivy League school since Penn made the Final Four in 1979 to advance to the second weekend. No one on the team seems all that surprised by the development.
"It really doesn't matter who we're playing," forward Jon Jacques said. "We're confident in ourselves. Our confidence is definitely growing each game."
So is their goofiness. The players have been joking around all weekend, displaying the comfort of a group making its third straight trip to March Madness. The team watched "Friday Night Lights" on Saturday night and told Dale he had to work a quote from the movie into his postgame press conference. Dale pulled it off, while his teammates erupted with laughter while watching him on a TV in the locker room.
Does that kind of stuff happen a lot?
"Well, we don't usually have many press conferences," Dale said.
Coach Steve Donahue said his team likes to have fun but knows when to get serious. It showed in their preparations this weekend, as they got off to strong starts in both games and trailed for a total of 2:43, all at the beginning in the Temple game. Donahue called Cornell's offensive execution against Wisconsin the best he'd ever seen as a coach.
Next comes perhaps the biggest David vs. Goliath matchup in the history of the Sweet 16: Cornell against top-seeded Kentucky. A program whose first two NCAA Tournament wins came this weekend vs. one with seven NCAA titles. A school that doesn't give athletic scholarships vs. one that has four likely lottery picks. Unrecruited seniors vs. blue-chip freshmen. Big Red vs. Big Blue.
And it will take place in Syracuse, N.Y., about 55 miles from Cornell's campus.
"It's an amazing story, " said Mark Coury, who started 29 games at Kentucky before transferring to Cornell, where he comes off the bench. "We won our last two games by a lot of points, but obviously Kentucky is a whole different level. But if we run our offense efficiently and play good defense, I think we'll have a chance."
Kentucky had better be prepared. Or else the Wildcats will become the latest team to have their hats handed to them by Cornell.