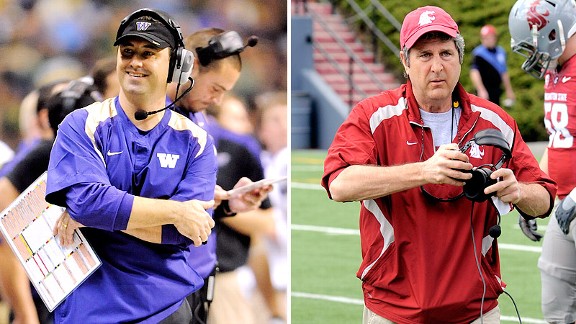 Icon SMI
Steve Sarkisian and Mike Leach figure to have some heated battles along the recruiting trail.
Scott Pelluer remembers sitting in a room, watching film of Jason Gesser.
It was 1997, and Pelluer -- a Washington State graduate -- was an assistant coach at Washington. Gesser was a quarterback recruit at Honolulu Saint Louis High School.
"We had him in for a visit," Pelluer said. "I don't remember who we picked, but we picked somebody else. Jason Gesser goes to WSU and tears it up."
Gesser went on to lead the Cougars to consecutive 10-win seasons, finishing seventh in the 2002 Heisman Trophy voting.
When it comes to recruiting high school athletes to Pullman, Wash., the Cougars have always had to dig a little deeper. No matter the wins and losses, Washington has always gone after bigger names, while Washington State has mined hidden gems.
"They've got to look a little harder, but they've gotten some great kids by looking a little harder," Pelluer said.
When it comes to the recruiting rivalry between Washington and Washington State, Pelluer provides a unique perspective. He played linebacker for the Cougars but coached the Huskies. He sent a son, Cooper, to Washington, while another, Peyton, has given a verbal commitment to Washington State.
While the Huskies are working on their fourth consecutive top-25 recruiting class, Pelluer sees Mike Leach creating competition on the other side of the state.
"I really believe they're going to have some success and they're going to turn the corner," Pelluer said.
When it comes to reeling in recruits, both schools have something to sell. Washington offers a young, energetic staff that has the program pointed in the right direction. Washington State has Leach's wide-open offense and the excitement that is generated with any coaching change.
"Now the Northwest is starting to put out so many talented players, you're going to start seeing a lot more competition for these local kids and it's not going to be such a one-sided affair anymore," said former Washington quarterback Taylor Barton, who runs the Barton Football Academy.
The two programs share the same state, so it is inevitable they cross over on recruits. However, with separate systems, sometimes they see something in a recruit the other doesn't.
"There will be some discrepancies," Washington State recruiting coordinator Dave Emerick said. "Maybe they like a kid more than we do and we don't offer them. Or maybe we like a certain kid more than they do and they don't offer."
As the coaching staffs search for players who best fit their programs, they don't worry about who their rival is recruiting.
"We have our own philosophy," Washington recruiting coordinator Johnny Nansen said. "We have kids that we're looking at, that we're recruiting. I don't know what type of kids they're recruiting."
Emerick added, "Recruiting-wise we're just trying to worry about ourselves. We're trying to worry about the quality of players we can bring into our school. Obviously they're doing a good job over there, but our focus and Coach Leach's focus is on what we're doing."
While the programs approach recruiting from different directions, they share the same recruiting ground. Both schools want to be strong in Washington, while building their presence in California.
After going to 10 bowl games in 10 seasons at Texas Tech, Leach also makes the most of his reputation in that state.
The programs share the same recruiting territory, but they are in different stages of development. When Washington coach Steve Sarkisian first took over the program, the Huskies offered a lot of athletes to bring in bodies that would form the foundation of the rebuilding process.
Now, after back-to-back bowl appearances, "Our offer means something," Nansen said. "We're not offering everybody. We're offering the elite kids that we're trying to bring in to change this program."
Washington wants its recruiting rival to be USC. The Huskies want to go head to head with the Trojans for the top talent in California.
"We want to beat USC on a kid," Nansen said. "To me, that's where we're at now. If we're recruiting those types of kids, then we're recruiting the right kids."
On the other side of the state, the Cougars keep mining for talent, looking to land the next Wes Welker, whom Leach uncovered at Texas Tech.
"Coach Leach and our staff, we put a lot of pride in our evaluation skills," Emerick said. "At Texas Tech, we offered quite a few guys that no one in the country offered and they turned out to be great players for us."
When it comes to recruiting, both programs are riding positive momentum. The key to sustaining success is turning that talent into wins.
"Right now it's just an exciting time," Barton said. "Recruits are feeling it. High school coaches are feeling it. I think you're going to see a lot more head-to-head battles between Washington and Washington State."