In the midst of designing for a global fashion empire, Tommy Hilfiger, a New York native and longtime sports fan, accepted a challenge by ESPN The Magazine to reimagine four iconic and beloved uniforms: those of the Yankees, Lakers, Cowboys and Canadiens.
His results appear in the March 21st "Style Issue," but here's a sneak peek at his Cowboys design.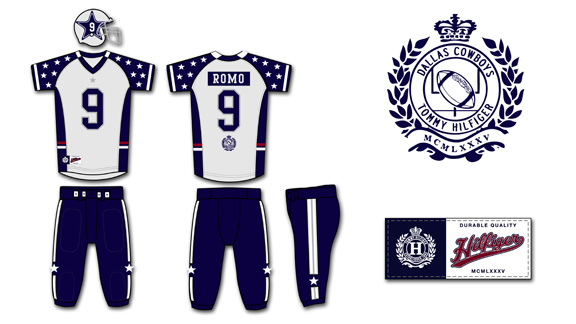 Dallas Cowboys
"If you think about America, the symbol that pulls us together as a country is the flag. Compared to the original Cowboys' uniform design, we love the repetitive feel of the small stars representing a different state that each of the players may come from. Those stars represent the team as a whole, while the helmet represents the player as an individual. We also liked the idea of making each player a star and enlarging it to include his number so everyone would be easily identifiable on camera, even when they're piled up on the field searching for a fumbled ball!"
For his other designs, click here.