Skylar Diggins' recent week in New York was as action-packed as her on-court game. Starting with the March of Dimes Sports Luncheon and ending with a whirlwind of activity for her new partnership with Sprint, the Tulsa Shock star gave us a behind-the-scenes look at her trip:
Wednesday, Dec. 4
It's an honor just to attend the March of Dimes luncheon at the Waldorf Hotel, but to be honored as Sportswoman of the Year (alongside Sportsman Mariano Rivera) is incredible!
Next stop: Niketown. I designed a pair of custom kicks for a fan to win after the launch of my new campaign with Sprint, "Sprint Post Up."
Thursday, Dec. 5
The calm before a storm ... dinner at TAO in the Meatpacking District. Felt underground, hidden and really cool.
Friday, Dec. 6
Photo shoot day for Sprint! It was great to sport some looks in street clothes and get to play around a bit.
Saturday, Dec. 7
Got to spend part of the day in Soho shopping for new clothes -- loved some of the stuff I found at Topshop.
Sunday, Dec. 8
Off day in NYC = workout focus. This is my current secret formula -- trying to get it done in under 17 minutes.
Monday, Dec. 9
I was able to swing by Spotify's office and step up my music game. Check out my playlist.
Tuesday, Dec. 10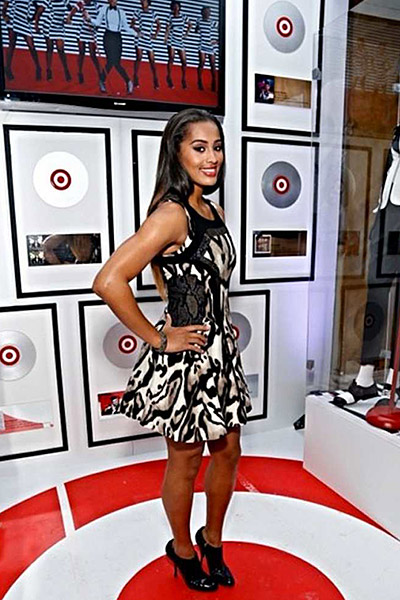 Stopped by the Billboard Women in Music Awards. So many talented and inspiring women in the building.
Wednesday, Dec. 11
Launch day for my Sprint Post Up campaign. BUSY DAY! We hit Hot 97, Sirius XM NBA radio, Fox Sports Crowd Goes Wild and managed to catch the Knicks game at Madison Square Garden.
Thursday, Dec. 12
Ended my week in NYC with a visit to MSNBC's "Morning Joe" with GenYouth's Alexis Glick to talk about the importance of teaching health and wellness in schools. It's an honor for me to be involved in the GenYouth program and I'm just getting started.