GREEN BAY, Wis. -- Lane Taylor is like most NFL players; he thinks training camp is plenty long, plenty grueling.
"The first couple of weeks are long as s---," the Green Bay Packers starting left guard said. "The last couple of weeks it shortens down just because cuts are around the corner, the schedule lightens up a little and you have like two games in like 10 days."
Taylor, a sixth-year pro, should have seen what it was like before the current collective bargaining agreement went into effect in the summer of 2011. Gone were two-a-day practices and in were mandatory days off -- the first comes after three days of practice -- plus three-hour daily limits for on-field work.
So when Taylor saw the last incarnation of the Packers' pre-CBA camp schedule for 2010 -- one that featured 25 practices, including seven two-a-day sessions -- the first word that came out of his mouth was: "Ick."
"That would suck," Taylor said. "I don't think guys would play as long as they do. The play style that there is now and how fast the game is now, to have that many practices, you're putting too many in harm's way. You're just asking to have an injured team."
The Packers wrapped up their 2018 training camp on Monday with a one-hour and 37-minute practice. It put their total time on the field at 33 hours and 6 minutes over 15 open practices. Considering those practices spanned the course of 32 days -- with 17 days in which they did not practice at all -- the average time on the field dating back to July 26 was barely more than an hour per day.
In the same number of practices last summer, they were on the field for 33 hours and 52 minutes. In 2016, they practiced for 34 hours and 21 minutes over 17 sessions. In 2015, they were on the field for only 31 hours and 48 minutes -- the shortest camp since ESPN began tracking Packers training camp practice times in 2014.
If that sounds easy, don't tell that to rookie receiver J'Mon Moore, who said camp felt "definitely long, definitely hard."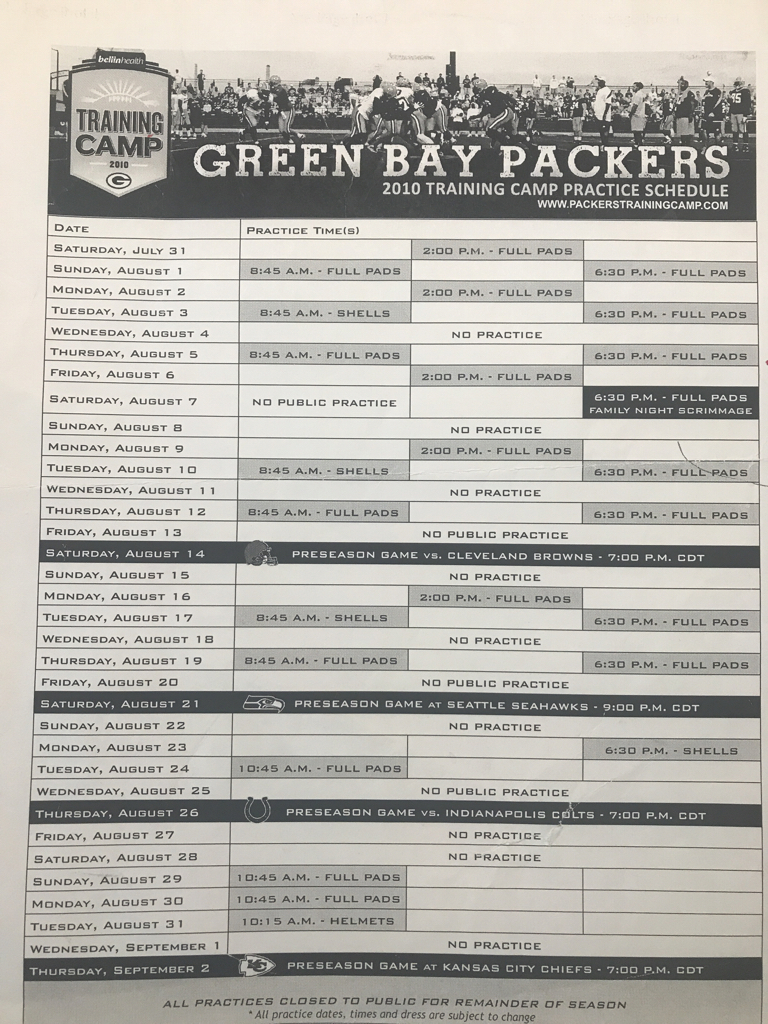 Today is the 15th and final practice of Packers training camp. Here's the last camp schedule under the old CBA — 25 practices including 7 two-a-days in the summer of 2010:
"Just being a rookie, it's different," the fourth-round pick added. "A lot of things get thrown at you, long days. It definitely was long, but I enjoyed it."
When shown the old schedule, Moore said: "That would've been crazy. The fact that I think 15 is long -- that would've been something."
Packers head coach Mike McCarthy made a fundamental change to training camp this summer. Rather than varying practice times from morning to evening, he implemented his regular-season schedule that featured either late morning or early afternoon practices right from the start of camp in order to instill a sense of regularity to the work. However, he still included some of the staples of training camp, with players sleeping at nearby St. Norbert College and extra meeting time.
"Way more meeting times, way more walk-throughs," veteran cornerback Davon House said. "So instead of practicing, we walk through it. We count the walk-through reps as reps on the field. Say at the end of the week we have a total of 500 reps. Well, 250 of them might be in the walk-through. You can still get good work in without being outside running around if the guys are dialed in."