We have 13 pitchers in today's group of 20 prospects, ranging from guys ready to take on big league rotation spots to pitchers just drafted or, in one case, just signed out of Cuba.
This collection includes the lowest-drafted player from 2016 to make this list, a guy taken after the first round who made a very strong impression on pro scouts who saw him after he signed -- and asked how he got that far.
Editor's note: Age is the player's age as of July 1, 2017.
Top 100 prospects ranked 1-20 | 21-40 | 41-60 | 61-80 | 81-100 | Index
---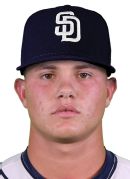 80. Adrian Morejon, LHP, San Diego Padres
Age: 18 (2/27/99) | B/T: L/L
Height: 6-0 | Weight: 165
Top level: Cuba | 2016: NE
The Padres signed Morejon, a 17-year-old Cuban lefty, for an $11 million bonus last July 2, which cost the team an additional $11 million for exceeding their international bonus cap, but they felt the young and not-very-tall southpaw was well worth it.
Morejon is barely 6 feet tall, but he is strong, with a durable, wide frame, and he throws 93-97 mph right now with good angle to the fastball and a four-pitch mix led by a hard knuckle-change clocked in the mid-80s. He showed that he can really pitch to both sides with his fastball in instructional league, though to be fair, no player in history has ever looked bad in instructs.
Morejon hasn't pitched competitively since he was a 16-year-old in Cuba in 2014, so you can truly dream on him -- there's no objective data to hold you back. The scouting reports on him are so glowing that he could be the next Anderson Espinoza, which would shoot him up this list next January, if he lives up to them.