LOS ANGELES -- There's a method to the madness.
And you'd better believe, the Los Angeles Rams' offense is madness.
Some might even call it the Greatest Show on Turf 2.0, including quarterback Kurt Warner, the conductor of the original Greatest Show.
"What makes them so good is that they've got great balance," Warner said about the 2018 Rams. "They're equally effective running and passing the football, offensive line is playing great ... and Sean McVay does a great job of making everything look the same."
It's time, members of the original Greatest Show said, for the records to fall, for new legends to be made, and for them to reunite at the Super Bowl to watch this new team solidify its place in history.
"Heck, records are meant to be broken," said receiver Torry Holt, a member of those Rams teams from 1999 to 2001. "And we set a good example for how offensive football should be played, and the Rams are just taking it now; this group is taking it to a whole other level."
Until the Super Bowl, there will be no greater stage to display it than Monday Night Football against the Kansas City Chiefs in one of the most anticipated Week 11 matchups of 9-1 teams in NFL history.
And Warner, Holt & Co. know why these Rams are so great.
Elite skill players
The Greatest Show had Warner, a trio of dynamic receivers and the versatile Marshall Faulk at running back. Sort of like their present-day counterparts.
Rams quarterback Jared Goff ranks second in passing yards this season, behind the Chiefs' Patrick Mahomes, but is the best at using elements of deception.
No quarterback has attempted more passes with either a play-action fake or a screen than Goff this season, as 46 percent of Goff's passes have featured a play-action or screen, the highest in the NFL, according to ESPN Stats & Information research.
"The hard play-action fakes and the throws up over the top is really where they make their living," said Warner, who threw for 4,353 yards and 41 touchdowns in 1999 and was the league's MVP. "And they're as good as anybody in the league at running the play-action and getting big plays off of it."
Goff has averaged an NFL-best 10.7 yards per attempt off play-actions and screens this season with 10 touchdowns and no interceptions, compared to 8.3 yards per attempt without either element. This has been consistent for Goff under Sean McVay.
MVP front-runner Todd Gurley ranks first in rushing yards, averaging 98.8 yards per game.
And Brandin Cooks, Robert Woods and Cooper Kupp were each on pace for a 1,000-yard season, but Kupp was sidelined because of a knee sprain, then suffered a torn ACL last Sunday against the Seattle Seahawks.
Prior to Kupp's season-ending injury, the Rams featured the most prolific five-man, skill-position groupings in the league. Woods, Kupp, Cooks, Gurley and tight end Tyler Higbee have been on the field together for 277 snaps, and the Rams have scored 17 touchdowns with them on the field. Both marks are the most of any skill-position combination this season.
That consistent usage of personnel and McVay's ability to call any play from any formation make it hard for a defense to know what's coming.
"We did so many different things that it was hard to figure out what we were going to do any given week because we had so many plays and so many formations and so many different things that you could study us the last four weeks and we'd give you a bunch of stuff that you'd never seen before," said Warner. "The difference with the [current] Rams now is you can watch them and they do similar things every single week; the problem is that they just do it so well."
Personnel grouping
The Rams operate in 11 personnel -- one running back, one tight end and three receivers. And they run it almost all the time. Out of 648 snaps, 617 (95 percent) came in that formation.
"The Rams' first goal is to get Todd Gurley going, so when you line up 11 consistently, you're going to be playing with one smaller guy than you're used to playing with to stop the run, so that's where the Rams get creative, finding different ways to make that guy have to make all the plays versus Todd," said D'marco Farr, who was a defensive tackle on the original Greatest Show. "At some point, you're going to have to give something up. Either they're going to out-man you running the football, or if you have to put a bigger guy in to stop the run, that's where Sean McVay really starts to wreak havoc within the passing game. There's just going to be a mismatch out there somewhere because of Todd Gurley."
One of their signature plays was on display against the New Orleans Saints: The inside-outside zone play, on which Gurley reads the zone blocking and then all of the sudden takes a hard right and is one-on-one with a corner. It's a tough play to make for a defender, and it gave Gurley one of his league-leading 17 touchdowns this season.
No. 1️⃣6️⃣ for No. 3️⃣0️⃣

Feed @TG3II! pic.twitter.com/5etSnkgDb8

— Los Angeles Rams (@RamsNFL) November 4, 2018
"The design. The deception," Farr said. "And then the ability of the athlete to get the ball into the end zone. There's been so many 'wow' plays on offense."
The Rams have also used jet-sweep motion regularly this season to assist both Goff and the running game. They've used jet-sweep motion at the snap 139 times and picked up a first down 33 percent of the time. Goff has completed 70 percent of his passes on those plays, and Gurley has averaged 5.5 yards per rush.
And practically any of the skill players can be utilized in the motion.
"The jet sweeps is one play that we ran constantly and that they're running," said Isaac Bruce, who caught a 73-yard touchdown when the Rams beat the Tennessee Titans in Super Bowl XXXIV. "And that they run precisely well."
The wide receivers
The Greatest Show had Bruce, Holt, Az-Zahir Hakim and Ricky Proehl. In L.A., it's Woods, Cooks and Kupp. Kupp's loss will be one that tests the Rams, but it's the trio of receivers who have elevated the offense.
They are as smart in the meeting room as they are talented on the field. They know the nuances of McVay's scheme and the intention of each route on every play.
A few of the most notable plays are ones Holt and Bruce would love to be inserted into.
Against the Green Bay Packers, Cooks ran a deep post that resulted in a 32-yard reception, a route Holt said reminded him of his favorite -- "Seven house" -- back in the day.
And then there were the two jaw-dropping plays Goff and Kupp teamed up on against the Minnesota Vikings.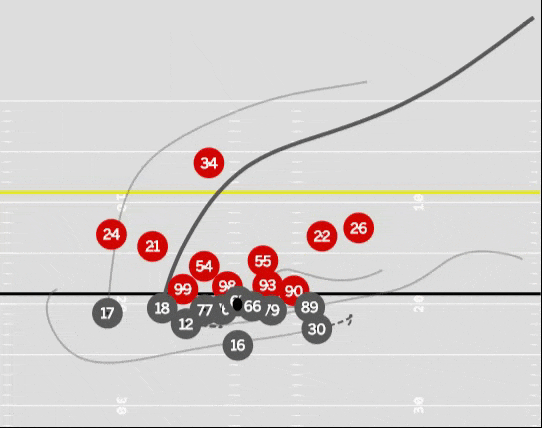 Animation courtesy of NFL Next Gen Stats
Goff spotted the matchup he wanted when he hit Kupp in stride for a 70-yard touchdown and left Vikings linebacker Anthony Barr in his wake. Later in the game, Goff rolled to his right, then dropped a 19-yard pass to Kupp in the back corner of the end zone, perfectly placed behind two defenders.
Each play demonstrated intricacies of the Rams' offense that make it impossible for a defense to take away any one receiver.
"They have deep routes and short routes, and all of them look the same," Warner said. "And then when you least expect it, they're going over the top of you; when you're planning for them to go over the top of you, now they're hitting you underneath."
The offensive line
Goff has attempted a league-high 246 passes (completing 159) with more than 2.5 seconds to throw this season and has a league-best 150 attempts (83 completions) with at least three seconds to throw. Goff's 11 touchdowns with three-plus seconds to throw are tops in the NFL.
There's not a superstar lineman like the 1999 Rams had in left tackle Orlando Pace, but Goff benefits from a consistent, veteran group that includes left tackle Andrew Whitworth and a line that ranks as the best in the league.
The Rams own the best pass-block win rate in the NFL at 61 percent, according to ESPN pass rush metrics using NFL Next Gen Stats (a pass-block win is when a pass-blocker sustains his block for the first 2.5 seconds following the snap).
Further, the Rams have the best three-second pass-block win rate in the NFL, as well, at 52 percent. The Rams even sustain their blocks for three seconds at a better rate than the rate at which 20 teams sustain their blocks for 2.5 seconds.
"That offensive line has been the constant, and for all offenses to have a great deal of success and to score points the way they score points and to move the ball the way that they move the ball, whether that's on the ground or in the air, you have to have stability at the offensive line," Holt said. "And they have that with this group."
But above the rest, McVay has convinced each player to buy in. Gurley is known as one of the toughest blockers on the team. And check any of Gurley's big runs, and you'll see receivers who helped clear the path.
"They're selfless players, and that's pretty tough to come up with for a group of guys. Fortunately, we had it; I think our comradery was great and people around the league saw it," Bruce said. "They have the same thing because it's at a point right now as, they don't care who makes the play, they celebrate each other's success."
The coach
"He's consistently keeping defenses on their toes, and there's only so much as a defense that you have to prepare for," Holt said.
That's McVay's greatness.
The original Greatest Show on Turf had veteran head coach Dick Vermeil, who turned his offense over to mad scientist Mike Martz to unleash his vertical passing game and find creative ways to get Faulk the ball. The genius of the current Rams offense belongs to the 32-year-old McVay.
"You have to prepare for the formation," said Holt, "then you've got to prepare for the tempo, then you've got to prepare for the plays, then you've got prepare for the motions and the shifts. ..."
Warner, in his current gig as an NFL Network analyst, has watched plenty of football across the league. He has seen plenty of the good and a lot of the bad. The 2018 Rams do it differently than the Greatest Show on Turf, but that, in part, is what makes them special.
"There's not a bunch of great schemes out there," Warner said. "So when you have teams that really do things well and have a method to the madness like Sean McVay does, it's fun to watch, and it's fun to watch because it's so hard to defend.
"I would love to play in the system."