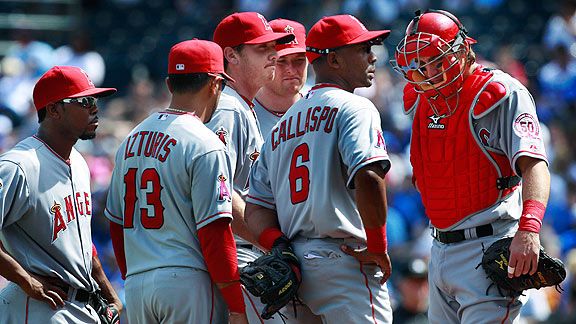 AP Photo/Orlin Wagner
The Angels wait for a meeting on the mound, where many of their frustrations lie.
When your two best starting pitchers have to jog down to the bullpen in the fourth game of the season, things usually aren't going well for your pitching staff. While the Los Angeles Angels did salvage one game at Kansas City's Kauffman Stadium, the opening series couldn't have started 2011 on a much more cacophonous note.
If that really was the Angels' true character out there, 2010 could wind up looking like the good old days by the time this year is out.
The bullpen blew a lead in the eighth or ninth inning of every game, the offense really looked alert only on the final day (against Bruce Chen, with a hot wind howling out) and Scott Kazmir continues to look like he has no idea who he is anymore. After Sunday's 12-9 loss in 13 innings, manager Mike Scioscia vowed to "sort some things out."
Let's look at the problems that appear fixable and those that might be beyond even an expert handyman's tools:
FIXABLE
1. Roles:
Fernando Rodney just might not be a closer. That doesn't mean he can't be a useful piece of the bullpen, but since he's been with the Angels, he generally hasn't handled the final leg well. He closed most of the season for a second-place Detroit Tigers team in 2009 and did pretty well, but that looks like an anomaly now.

#56 RP
Los Angeles Angels
2011 STATS
On Sunday, Scioscia said Rodney was "all over the place" with his mechanics. He threw 20 pitches and only seven of them were strikes (and one of them was a line-drive double). That's a dismal lack of command.
The Angels might have to do what the Rangers did last year: take a leap of faith. Neftali Feliz was 21 and had pitched in 20 games when Texas made him its closer. How'd that work out? Feliz saved 40 games, was an All-Star and picked up a rookie of the year trophy. It might be time to anoint Jordan Walden the closer, then line up the hard-throwing veterans in front of him.
Walden has the best stuff on the staff and is pitching with the most confidence. Scioscia says it all the time. Talent should win out over experience every time.
2. Scoring
Remember, the Angels' lineup looked stagnant, particularly with runners on base, through the first three games. Then came a major explosion Sunday, fueled largely by huge days out of Howie Kendrick and Bobby Abreu. Keep one more thing in mind: The Royals had the worst pitching in the American League last year, so the Angels' offensive problems could go deeper than we know just yet.
The good news is Kendrick, Abreu and Erick Aybar have started out swinging hot bats, and nobody else looks completely lost at the plate. Given time -- and with Kendrys Morales probable to return this month -- the Angels should score more runs than they did last year.
Thus far, the Angels have more solo home runs (eight) than hits with runners in scoring position (seven). The law of averages suggests that will change.
3. Control
The Angels have walked 19 batters so far, the most in the major leagues. The incredible part about that is the distribution. Starters Jered Weaver, Dan Haren and Ervin Santana combined to walk four batters in 20 innings. Everyone else combined to walk 15 in the other 20 innings.
The Angels' bullpen has some aggressive young pitchers, and with a few exceptions, command hasn't been a career-long trend. This problem should iron itself out over time.
UNFIXABLE
1. Kazmir

#19 SP
Los Angeles Angels
2011 STATS
The surprising part about Kazmir's day wasn't watching him allow nine baserunners while getting five outs. It wasn't his lack of velocity or his inability to hit spots. It was what he said afterward. Keep in mind this comment comes from a guy who swore he was just going to compete with what he had and not bare his soul when things aren't going well:
"I just know what was going out there was not me," Kazmir told reporters.
That echoes something Kazmir said last season, in the depths of his struggles, when he indicated that he couldn't recognize himself when he watched film.
Clearly what ails the Angels' No. 5 starter goes deeper than anything a between-starts bullpen session is going to fix. At this point, the Angels have to consider whether they can salvage anything from a pitcher who will earn $14.5 million in the coming months. Do they isolate the sorest part of his body and use it as a pretext to place him on the 15-day disabled list, let him face minor league hitters until he regains some confidence? Do they use him as a long reliever? Do they simply cut their losses and release him?
You can be sure all options will be on the table when the Angels' decision-makers meet at a St. Petersburg, Fla., hotel later Monday.
2. Sources of help
The Angels aren't going to be able to reach to the minor leagues for help, because most of their best prospects are already on the 25-man roster. Sure, they could tap Matt Palmer or Trevor Bell to make a few starts, but neither of those guys has impressed in extended major league stays. The return of Reggie Willits isn't going to ignite a hot streak.
Eventually, the Angels probably will bring up their top pitching prospect, Tyler Chatwood, 21, but now is probably too soon. Chatwood made only one start at Triple-A last season.
There are, of course, 29 other teams that might be willing to listen to trade offers. But what the Angels are seeking -- end-of-rotation help, perhaps a veteran relief arm -- are the same things virtually every other team is looking for. It's not a buyer's market.
So, sit tight, Angels fans. Soon, we find out what gets sorted out and what doesn't.