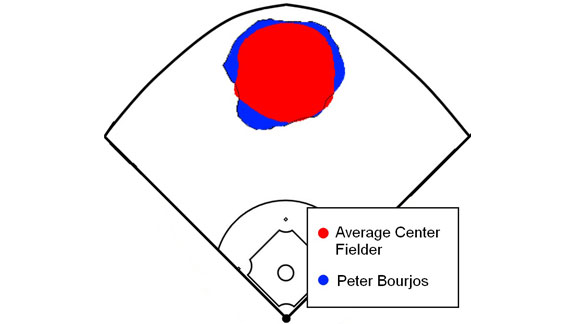 Image courtesy Baseball Info Solutions
The red shading illustrates the range for a major league center fielder on fly balls with a hang time between 3 and 4 seconds. The blue shading shows the extra ground covered by Peter Bourjos.
It's the fourth inning of last Wednesday's game in Yankee Stadium, with the Angels trailing the hosts 5-0 and Yankees third baseman Eduardo Nunez has just hit a fly ball into the vacant right-center field gap.
The Angels have already yielded one triple this inning and it looks as if this has the potential for another, as right fielder Torii Hunter tries to close ground as quickly as his 36-year-old legs can move him.
"Speed kills," Hunter had said a couple hours earlier, and Hunter still has pretty good wheels for a man his age. He launches a head-first dive and watches the ball sail past him.
But behind Hunter is the teammate who he says has wings on his shoes -- like the super-swift mythological figure, Mercury -- center fielder Peter Bourjos. Despite having his vision shielded momentarily by Hunter's flight path, Bourjos is able to reach knee-high with his glove and make the catch, avoiding Hunter, while never breaking stride.
"How did he make that catch?" asked Angels television color commentator Mark Gubicza.
Add it to the list of amazing defensive plays the 24-year-old Bourjos has turned in during his major league career, which is just over a year old.
Breaking Down The Numbers
Baseball Info Solutions (BIS), a company located in Coplay, Penn., is in the business of statistically evaluating baseball, with one emphasis being on looking at defense. Its founder, John Dewan, has written two books on the subject, "The Fielding Bible."
Most Defensive Runs Saved
MLB teams entering Saturday
BIS employees do video tracking for every play in every major league game, providing reports and stats to more than half the major league teams. The company has multiple methods of compiling defensive data.
One involves the plotting of points at which plays are made on a computerized baseball diamond, with the ability to denote for an outfielder whether the batted ball was a line drive, fly ball or something in-between (they call them "fliners"), and for how long the ball was in the air before either hitting the fielder's glove or the ground.
That allows them to create images such as the one at the top of this article.
The red shading in that picture represents the area in which an average center fielder will catch the ball more often than not, if the ball is in the air for between three and four seconds (that's the hang time for most fly balls). The blue shading represents the extra ground Bourjos covers.
"That right there … that's the truth," Hunter said Wednesday after looking at the diagram.
"He's the blue?" asked Angels pitcher Jered Weaver, who has been a major Bourjos beneficiary this season. "That's ridiculous."
When Bourjos saw the image, his first reaction was to smile. It was the same smile he flashed when he made his ridiculous catch later that night.
"That's pretty cool," he said. "They don't usually have those sorts of things for defense."
They didn't, until recently. It's part of the new wave of baseball analysis that has garnered a lot of public attention the last few years.
Evaluating offense is easier for fans, statisticians, and even managers, coaches and executives than trying to evaluate defense.
When Angels coach Dino Ebel, who positions the team's outfielders, put a value on his team's outfield defense, he used a very basic stat to supplement Mike Scioscia's comments that this team has the most range of any he has had: triples allowed. The Angels entered Saturday having allowed the third-fewest in the majors: 15, trailing only the Rangers (11) and Red Sox (14).
Baseball Info Solutions has tried to do a more in-depth analysis to compute value on the defensive side.
Most Defensive Runs Saved
MLB players (last 2 seasons)
BIS uses a plus-minus system to determine how much better or worse a player is than his peers. In Bourjos' case, he rates 15 plays better, meaning he turned 15 more batted balls into outs than the average center fielder would have, had he been in the field for every play that occurred. Those 15 outs were worth 25 bases, based on historical data of base hit types to each spot on the field.
Through a series of calculations, the 15 plays and 25 bases are combined with two other factors -- a throwing arm rating and a home run-robbing rating.
Smush those together and Bourjos' value this season is calculated at 20 Defensive Runs Saved, which as of Saturday matched Yankees left fielder Brett Gardner for the most of any major league outfielder.
There are some things that this system can't take into account, so BIS has another method of evaluation. They have "video scouts" tracking every play of every game, grouping plays into 30-plus categories of Good Fielding Plays (think of those as Web Gem nominees) and 50-plus categories of Defensive Misplays & Errors (things such as slipping and falling, colliding with a teammate, overthrowing a cutoff man).
Since Bourjos played in his first game on Aug. 3, 2010, he has 48 Good Fielding Plays, more than any outfielder in the major leagues. He has 22 Defensive Misplays & Errors, which sounds like a lot, but when you look at the ratio of Good Plays-to-Misplays, only Mariners center fielder Franklin Gutierrez is better among everyday outfielders. A rate of better than 2-to-1 is very good.
The Baseball Perspective
Among the video on a Bourjos highlight reel:
• Home run robberies of Rangers outfielder David Murphy on April 20 and Twins DH Jim Thome on May 27. Those are the two that merit the most mention when teammates are asked to recall their favorite Bourjos plays.
"I'll take Thome's," Angels pitcher Tyler Chatwood said, "because I was pitching for that one."
• A leaping catch at the left-center field fence on July 4 to take an extra-base hit away from Miguel Cabrera.
Angels first baseman Mark Trumbo has been a teammate of Bourjos at multiple minor league stops. He knows the look he saw from Cabrera well.
"Exasperation," Trumbo said.
Trumbo saw Cabrera approach Bourjos the next day. He can take an educated guess on how the conversation went.
"Next time," Trumbo noted the hitter usually says, "I'm hitting the ball to someone else."
• The gap-to-gap sprint from right-center to left-center to rob Cabrera's teammate, Andy Dirks, on July 30. That has become a patented play in the Bourjos arsenal. He could be playing completely opposite where the ball is hit, but can still make the catch.
"He's had balls that he's had no business getting to and he's still gotten them," Angels left fielder Vernon Wells said. "He's improved from a high level to an elite level."
We asked one longtime major league scout to rate Bourjos and give us a comparable player historically. On the scout's 20-to-80 scale, he rated Bourjos' glove an 80 and said Bourjos' skill reminded him of Paul Blair, who won eight Gold Gloves in a nine-year span as a center fielder for the Orioles from 1967 to 1975.
"He has superb instincts," the scout said of Bourjos. "He takes proper angles to where hard-hit fly balls, and deep-and-smoked line drives will land. He lays out to make plays and has no fear of the wall. His footwork and mechanics are sound. He has a quick first step [reacting to the ball] off the bat."
Those who watch him say they think Bourjos can get even better. The scout warns that Bourjos, who spent time on the disabled list earlier this season with a hamstring injury, may end up a DL visitor in the future due to his aggressive style
"He sacrifices his body all the time," Wells said. "He has one goal in mind: catch the ball no matter what is in his way."
ESPN baseball analyst Chris Singleton, a former center fielder, said he has seen Bourjos a few times and been very impressed, but noted that there's still plenty for a young center fielder to learn. Occasionally, Bourjos will be moving so fast, he'll overrun a ball.
"His feel is still developing," Singleton said.
Hunter has been giving Bourjos advice regularly on things of that nature. To figure out whether to cheat in one direction or another, Bourjos will consider the count and where the catcher sets up.
"It's about being able to see the pitch and be aggressive," Bourjos said.
Hunter's philosophy is to take the situation into account, but he's more cognizant of pitcher and hitter knowledge than what his catcher is doing.
"I had range like [his]," said Hunter, who won nine Gold Gloves from 2001 to 2009 and now leads right fielders in Defensive Runs Saved this season. "But I also positioned myself well. Once he learns the league, he'll be that much better. I can't tell you what I've told him. That knowledge is only for people that I like."
Hunter said he likes Bourjos, a lot, as everyone does. Hunter has been in baseball a long time and he said he has never seen anyone who could make plays quite like Bourjos does.
"With speed like that, you can do anything in this world," Hunter said.