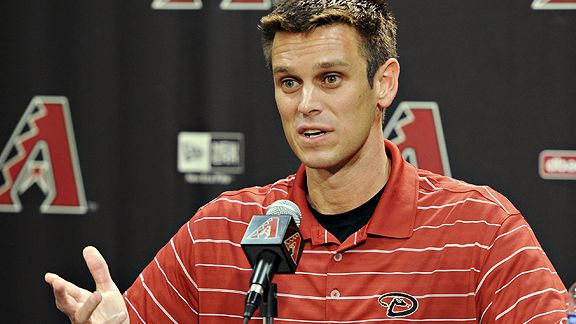 Rick Scuteri/US Presswire
Jerry Dipoto said the Angels won't "lock the door" on going after an impact player.Jerry Dipoto was named senior vice president and general manager of the Los Angeles Angels on Oct. 29, replacing Tony Reagins after the Angels missed the postseason for the second consecutive year.
Dipoto, 43, spent the last six years as the Arizona Diamondbacks' vice president of player development and scouting. He pitched in the majors for seven years, and his front-office experience includes scouting for the Boston Red Sox and serving as director of player personnel for the Colorado Rockies.
I sat down with Dipoto to talk about his offseason plans and to hear his blueprint for the Angels.
Bowden: You were interim GM of the Diamondbacks in 2010 and made a couple of significant trades [Dan Haren to the Angels for a package including Joe Saunders and highly regarded prospect Tyler Skaggs; Edwin Jackson to the Chicago White Sox for pitcher Daniel Hudson]. How disappointed were you that you didn't get that job?
Dipoto: I expected there would be other good candidates and, of course, I was disappointed but I also understood. However, I also was given an opportunity to work and learn from Kevin Towers, who taught me the value of a group of players that have a common goal and that the makeup and character of the players had be the anchor and the most important trait of a player even before their physical ability, scouting reports or statistical analysis.
Bowden: Who were some of your other baseball mentors besides Towers?
Dipoto: I was blessed with a long list of baseball executives that I learned from. Josh Byrnes, who's now the GM of the Padres; Bob Gebhart, who I played for as well as worked with; John Hart, who I also played for and studied; Dan O'Dowd, the GM of the Rockies who I worked with really from ages 21 to 40; Theo Epstein briefly. Each of them taught me a different angle and I learned from all of them. Other baseball influences include Bobby Valentine, Dallas Green, Roland Hemond, the late Bill LaJoie and Jim Fregosi.
Bowden: Do you think it is an advantage that you played in the major leagues?
Dipoto: There are a lot of smart people in baseball, some that played the game and some that didn't, so I'm not sure that matters in terms of success. However, I do think it gives me credibility when I talk to players and the fact that I've walked in their shoes. It allows me empathy to understand how tough a game it is to play.
Bowden: Going into spring training will the Angels' outfield be Torii Hunter in right field, Peter Bourjos in center field and Mike Trout in left field?
Dipoto: Right now it's Hunter in right field, Bourjos in center field and Vernon Wells in left field. Trout will need to play his way onto the team. I know one thing, he's going to play every day, and if it's not in the major leagues then it will be in our farm system. Wells deserves a chance to bounce back. Throughout his career he has a history of bouncing back the year after he's had a down year. Wells needs to be protected. That being said, we'll play the best three outfielders on opening day, and if Mike Trout is one of those three, we won't hold him back.
Bowden: Can you give us an update on Kendrys Morales and whether he will be ready to impact the club at first base or DH in 2012?
Dipoto: Morales is a work in progress. We will know more in January. It's uncertain how his health is going to play out.
Bowden: Morales is arbitration eligible, will you tender him a contract given the health concerns?
Dipoto: In all likelihood we will tender him.
Bowden: Mike Scioscia used a platoon behind the plate with Hank Conger, Jeff Mathis and Bobby Wilson in 2011. How do you see the catching position for 2012?
Dipoto: We are going to continue to try and sort it out. Catching, as you know, is a tough position to fill, and we will continue to search for more depth of major league-caliber catchers.
Bowden: Hank Conger hasn't been given a chance to be the everyday catcher despite many baseball people feeling that he could be the long-term answer. Are you going to give him a chance?
Dipoto: Conger needs to get out on the field and play with nicks and bruises. He can hit from the left side and is a good offensive catcher. Defensively, when he gets in a rhythm, he shows he can do it. He deserves a chance to play every day and get the reps to find out what he can accomplish. It's also understandable why Mike Scioscia has rotated the catchers, especially when you get such a special defensive player like Jeff Mathis. However, I want to upgrade our offense and ability to get on base, and this is one of multiple positions where we have to find a way to improve our OBP.
Bowden: The Angels have been a poor OBP team in general the past few years. Are you going to address this deficiency?
Dipoto: Yes. The changes have to start at the grassroots level in player development. I do respect and admire the Angels' aggressive style of play on the bases and in the batter's box, but going forward, we will see a shift on the roster with players that get on base more. The question is if on-base percentage is something a player is born with or a learned trait, and that can be argued, but bottom line is we need to improve in that area at all levels.
Bowden: The Angels have a solid infield but lack run production from third base. Any interest in free-agent third baseman Aramis Ramirez?
Dipoto: No interest in Ramirez; that's not the direction we want to go in. We're happy with Mark Trumbo at first base. Howie Kendrick finally had the breakout season offensively at second base and showed what he's capable of doing at the major league level. Aybar won the gold glove at shortstop, while Alberto Callaspo and Macier Izturis are significant infield pieces. I would like to add a different spice to the stew. I would like to add a right-handed hitter, and it could be a utility player or someone that could affect the way our team gets on base. He might be a third base/DH type or player that can play multiple positions.
Bowden: Is it safe for me to assume that you won't be a player on Albert Pujols or Prince Fielder?
Dipoto: Don't assume that we have no interest in Fielder or Pujols. We don't want to lock the door. We are a high-revenue team, and I'm a big believer in acquiring impact players. However, they are not our greatest need and are not priority No. 1 on our list.
Bowden: OK, then let's get to your priority list.
Dipoto: First we need better depth in the bullpen, especially with right-handed impact power arms. I like [Jordan] Walden and [Scott] Downs but would like to get them some help for closing out the last three outs of a game.
Bowden: Do you have interest in Heath Bell, Jonathan Papelbon or the other top closers?
Dipoto: I don't want to get into specific names, but they would qualify as impact arms. But we also could get other undervalued pitchers that cost significantly less but can get the job done.
Bowden: Let's go to your next free-agent and trade-target priority list.
Dipoto: We need to improve our on-base percentage and have better balance with the other offensive needs of the club. We need to improve our catching, as we talked about, hopefully with a catcher that can provide both offense and defense. Then our next priority is a starting pitcher and inning stabilizer to go after [Jered] Weaver, Haren and [Ervin] Santana in the rotation.
Bowden: Do you have interest in C.J. Wilson? He has rented a place by Benedict Canyon in Los Angeles and grew up in Manhattan Beach and would love to pitch for the Angels.
Dipoto: Definitely, I have interest in every impact player and pitcher. It all comes down to the right place, right time and right dollars. There are a lot of options through trade and free agency, and we'll explore every player that we think can upgrade the roster. I also pride myself on finding hidden gems and I think this free-agent class also has some good pitching depth that we'll be exploring.
Bowden: Some say that Mike Scioscia has final say on personnel decisions. Any truth?
Dipoto: No truth. It has been portrayed to me directly by Arte Moreno, John Carpino and Mike Scioscia that I have final say in personnel decisions, pending ownership approval. Scioscia's input, strong opinions and feedback will be weighed significantly. … Everything is a collaboration. That being said, Mike Scioscia has made it clear to me that he understands his role as manager and mine as the senior VP and GM.
Bowden: Break down for us your philosophy and blueprint of building a world championship club for the Angels?
Dipoto: I think, like all 30 clubs, that pitching is paramount to success. My personal philosophy is that to structure a championship roster you have to have a different balance of the player's five stages of his career. The five stages for me are: breaking-in stage, money-making stage, prime-years stage, wind-down stage and the teaching stage. The core of championships clubs usually comes from ages 27 to 31 during the player's prime years. However the supporting cast needs to come from the proper balance of all of the other stages for a club to win. Too much or too little from a particular stage can make it tough for a team to have the right balance to win. Of course, makeup and character of the players and them having the same common goal is a necessity.
Jim Bowden served as the senior vice president and GM for the Cincinnati Reds and the Washington Nationals, and is an analyst for ESPN.com.