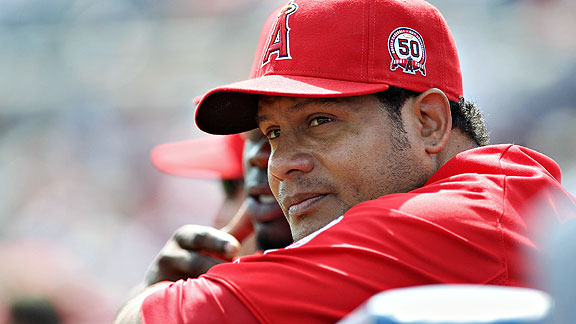 Christian Petersen/Getty Images
It seems pretty likely the Angels will trade veteran Bobby Abreu, but is now the right time?
With Albert Pujols taking over first base every day and Mark Trumbo and Kendrys Morales without positions, Abreu figures to have virtually no role. Angels general manager Jerry Dipoto said the team has penciled in a designated-hitter platoon of Abreu and Trumbo, but what if Morales, a switch hitter with 35-home run potential, is healthy?
Should they move Abreu now, before they know how Morales' surgically repaired (twice) left ankle responds to the wear and tear of playing every day? That could depend on how badly another team wants him. The Detroit Tigers, without Victor Martinez, have been linked to Abreu.
Here's what ESPN's Jayson Stark wrote:
"... There's literally no room for Abreu anywhere. So he's not happy. And other clubs are reporting that the Angels emerged from their organizational meetings last week with Abreu as 'their No. 1 guy to move.' Abreu, who won the 2005 Home Run Derby in Comerica Park, vested a $9 million option for this season. So his salary is an issue. But while the Angels would love to jettison as much of it as possible, an executive of one club reports 'they'll pick up enough to make it comfortable to move him.'
It could be that the Angels and Tigers are deep into talks about how much of Abreu's salary Detroit will pick up. It could be the Angels are waiting until they get more information on Morales.
If Morales goes down again and Abreu is gone, the Angels would have virtually no left-handed power. Then again, Abreu (eight home runs, 60 RBIs) didn't provide much last season anyway. Abreu (career .397 OBP) helps with Dipoto's quest to inject more on-base percentage into the Angels' lineup, but his walks have declined for three straight years as pitchers feel more and more comfortable going right at him with fastballs.
The move seems obvious. The timing, not so much.