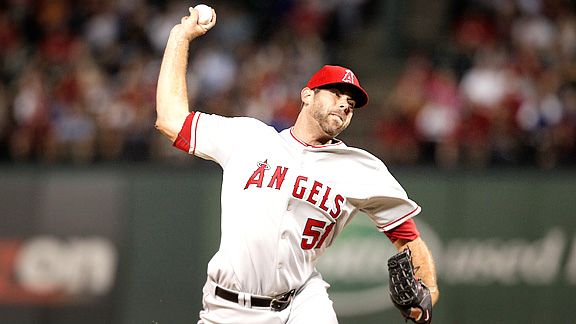 AP Photo/Tony Gutierrez
The Angels stood pat at closer, leaving their most crucial relief role to 24-year-old Jordan Walden.
This is part of an occasional series comparing the rosters of the two-time defending AL champion Texas Rangers and the rebuilt Angels, who could have the hottest rivalry in the league this year.
Bullpens are as unpredictable as the economy nowadays. You just never know what direction they'll go.
At this time 10 years ago, Brendan Donnelly had never thrown a major-league pitch, Ben Weber was a 32-year-old minor-league journeyman with a career 4.15 ERA and nobody had ever heard of a 20-year-old Venezuelan kid named Francisco Rodriguez. The Angels' 2002 bullpen became a virtually impermeable barrier to late-inning rallies.
Both the Angels and Rangers have had to accept some risk as they enter this season, the Rangers because they tinkered with the bullpen, the Angels because they didn't.
Instead of sticking with what worked -- strong setup men funneling the game to Neftali Feliz -- Texas seems intent on moving Feliz to its rotation and added 37-year old Joe Nathan to be its closer. Nathan pitched in 48 games for the Minnesota Twins last year -- two seasons removed from ligament-replacement surgery in his right elbow -- and had a 4.84 ERA.
The Angels sat back and watched a regiment of closer candidates sign with other teams this winter, leaving its most crucial relief role to 24-year old Jordan Walden (hometown: Arlington, Texas). Walden's blazing fastball earned him an All-Star bid but he wobbled in the final few weeks of the pennant race, one memorable meltdown against Oakland virtually ending the Angels' chances.
Whose bullpen would you rather have? The Angels had a surprising edge in 2011, with their relievers putting up a 3.52 ERA, second in the American League to the New York Yankees. Texas relievers had a 4.11 ERA, near the bottom of the league, but they also blew six fewer saves than the Angels. And Texas fortified the seventh and eighth innings by adding Mike Adams and Koji Uehara near the trade deadline.
Nathan seems like an acceptable risk, considering his fastball had returned to near-2009 form by the end of last season, averaging 92.3 mph, according to Fangraphs. In his second season removed from the injury, Nathan should have more confidence in his surgically repaired arm.
Walden plans to work this spring on two off-speed pitches -- a sometimes-devastating but erratic slider and a changeup -- to set up a fastball that can touch 100 mph. If he can bring those more consistently into games, his upside is higher than any reliever on either teams' staff.
Getting to the closer shouldn't be too stressful for either manager, particularly now that Fernando Rodney (28 walks in 32 innings) has signed with Tampa Bay. The Rangers have veterans in Adams and Uehara, plus Alexi Ogando figures to return to the bullpen after being displaced from the rotation by Yu Darvish. The Angels have lefty Scott Downs and righty LaTroy Hawkins, two of the more reliable eighth-inning pitchers, to set up Walden. Both teams will rely on young pitchers in earlier roles, but with the inflation in relievers' salaries, what team doesn't nowadays?
Relief pitching could be one of the few major edges the Angels have over Texas this season, but it's never easy to predict such things.