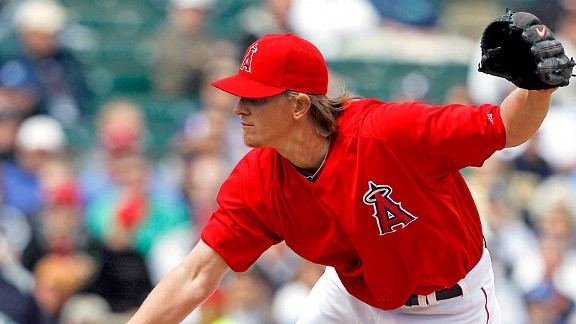 AP Photo/Chris Carlson
The Angels put up with Jeff Mathis' feeble hitting for six seasons primarily because they liked the way he worked with their pitchers.
If there was one risk in trading Mathis, a .194 career hitter, to Toronto in the off-season, it was this: How will it affect Jered Weaver. The Angels' ace worked almost exclusively with Mathis in recent seasons.
After throwing to new catcher Chris Iannetta for the first time spring, Weaver acknowledged it's not going to be easy.
"I'm definitely going to miss Jeff. When you've had that kind of relationship with somebody, you pretty much know what each other's thinking and what each other wants to do," Weaver said. "It's going to be a little different, no doubt about it, when you get a new guy -- the way he catches a ball, the way he sets up, the way he calls a game.
"I mean, it's all going to be different, so it's going to take a little while to get on the same page, but he's a workhorse. He wants to win, he's a competitor and he wants to get better."
The results were just fine Wednesday against the Seattle Mariners. Weaver got through two scoreless innings, pitching out of a bases-loaded jam in the second, using only his fastball and changeup. The Angels acquired Iannetta for pitcher Tyler Chatwood in a trade with the Colorado Rockies.