TEMPE, Ariz. -- Jorge Cantu's career is near -- if not at -- its low point, his chances of making the Angels 50-50 at best. Even if he does latch on, he figures to play about once a week, if that, and for a salary that's a pittance compared with what he made a couple of years ago.
It's been a fairly dizzying fall for a 30-year old who, not long ago, was one of the steadiest run producers in baseball.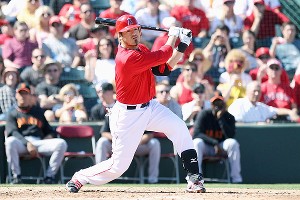 Christian Petersen/Getty Images
Jorge Cantu is batting .321 with four RBIs in 28 at-bats for the Angels this spring.
So why does Cantu seem like the happiest man in camp this spring?
"You might laugh, but it really doesn't get to my head," Cantu said. "At the end of the day, it's a game. You can't take this to the house. You have to balance your life, one way or another."
And, right now, Cantu's life is brimming. His girlfriend, Mexican actress and talk-show host Cynthia Urias, is six months pregnant with the couple's first child, a boy. Cantu has an opt-out clause in his contract that he can trigger on May 1 if he's still at Triple-A. He has even considered taking a couple of months off this summer to be with his newborn child in Mexico City.
In other words, not everything revolves around a revolving little white ball, even for those who make a career of hitting it.
Cantu, one of the finest Mexican hitters of all time, had just finished taping an interview and was walking down a hallway at the offices of Televisa in 2009 when one of the producers asked him to stop and pose for a picture. The two men looked around for someone to snap the photo. Urias heard them talking and popped out of a nearby cubicle.
"I froze, like stage fright," Cantu said. "I couldn't get a single word out."
Cantu called around and secured Urias' number from a mutual friend and soon the romance was on. It has become fodder for celebrity gossip columns in Mexico ever since. Urias flew to be with Cantu, 30, in Arizona recently, but soon she'll return to Mexico and won't be able to fly as her due date approaches.
Meanwhile, at locales around the Cactus League, Cantu is attempting to steer his career back from the brink. It veered oddly off track in what should have been the prime of his career.
He is batting .321 with four RBIs in 28 at-bats this spring and his chances of landing a bench job as a corner infielder could hinge on whether Kendrys Morales begins the season on the active roster or the 15-day disabled list. In the broader picture, he's trying to rebuild a career that has been erratic since 2009, when Cantu drove in 100 runs for the Florida Marlins.
The past two seasons, he has struggled with sporadic playing time, batting .235 for the Texas Rangers and .194 before the San Diego Padres released him. He finished 2011 in Triple-A with the Colorado Rockies, signing a minor league deal with the Angels shortly before the start of spring training.
"I'm trying to let everybody know I'm slowly, little by little, regaining my status," Cantu said. "Something you don't forget is hitting. I know how good I can be and how good I've been in the past."
If things don't work out with the Angels, Cantu is hoping they'll trade him to a team that needs a third or first baseman. If he plays well enough this spring, they might be tempted to deal one of their other infielders, possibly Alberto Callaspo, who earns $3.15 million, to save a little money.
They're intrigued by Cantu's bat, which offers more power than any of the other reserve infielders' other than Mark Trumbo's.
"This guy knows his way around situational hitting. He knows his way around RBI situations and his ability to put the ball in play is going to be something that's attractive," manager Mike Scioscia said. "That's why he's getting an opportunity here. We'll see where we are on Opening Day but he's looked great."
If things don't work out and Cantu doesn't return to the major leagues, he'll have a pretty good fallback position, having earned more than $11 million in his career and with a growing family.
"I feel truly blessed," he said.