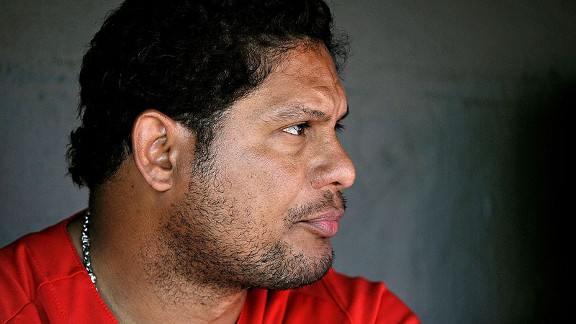 Lisa Blumenfeld/Getty Images
Divorces seem to bring out the worst in people, and the Angels' impending split with Bobby Abreu -- it's impossible to see it ending any other way -- has shown us the dark side of each of the principals' personalities.
In Abreu's case, it shows us how pride and overwhelming ego can blind successful people to their own limitations. How can he not see that he's no longer the Angels' best option at designated hitter, that his slowing bat and the return of Kendrys Morales have changed the landscape? How is he not grateful to this team for allowing his $9 million option to vest last season, the fateful decision that created this mess?
Does he actually think the Angels should give him 400 at-bats at the expense of Morales and Mark Trumbo, two young guys capable of hitting 35 or more home runs? In Morales' last healthy season, he hit 34 home runs. In Abreu's last season, he hit eight. Even his walks have declined in three straight seasons, as pitchers no longer seem to fear him.
He couldn't have looked much worse this spring, with four hits in 40 at-bats and his circus act during Monday's game, in which he dropped a routine fly ball that made life more difficult for young pitcher Garrett Richards.
Abreu has been talking since before camp began. It flared up again over the weekend after general manager Jerry Dipoto and manager Mike Scioscia called him into the office again over some comments he made to the Venezuelan newspaper El Lider in Deportes. Here is what Abreu said:
"I've learned not to have much confidence in these people, but I hope they live up to what they told me. How long am I going to have to continue proving to people what I am and what I'm able to do?"
And what about the Angels, who seem at times to be allergic to telling the truth? Why do they continue to play out this farce about Abreu having an appreciable role? Anybody who can add to 10 knows there's nowhere for Abreu to play now that Morales clearly is healthy again and the Angels have at least four outfielders who are better options. They don't owe Abreu anything other than his salary, but do they really need to insult their fans and sully his legacy by pretending everything's hunky-dory?
Do they expect the American League to give them a special dispensation to dole out 1,200 at-bats to their designated hitters this season? That's the only scenario -- other than two injuries -- in which Abreu gets 400 at-bats.
It's amazing how often a very good -- or even great -- player's career ends badly. If Abreu's career stopped today, he'd have 2,384 career hits and rank in the top 25 on the all-time doubles list. He's not that far from knocking on the door at Cooperstown.
There's got to be a better way to choreograph this departure, even if just for appearances' sake.