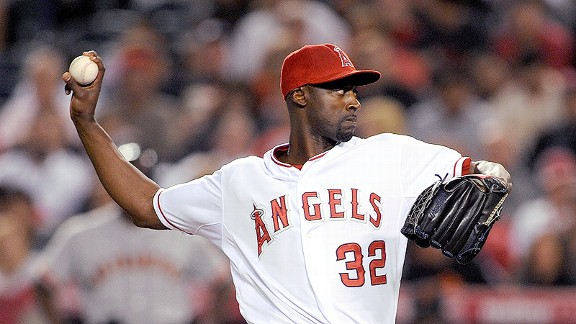 AP Photo/ David Hood/CSM
ANAHEIM -- Los Angeles Angels pitcher LaTroy Hawkins is the second-oldest player on the team and the most tenured one in the clubhouse. He's also pretty dialed in to social media.
Before a recent outing, Hawkins talked about his tweeting habits, having to call an operator to make a phone call from the clubhouse and how much the game has changed since he signed his first professional contract with the Minnesota Twins on June 7, 1991 (two months before Mike Trout was born.)
Markazi: You're 39 years old and were drafted in 1991. Are you one of those people that believe age is just a number?
Hawkins: No. It's a real number. 39 is 39, but they got an old saying, "Good black don't crack." [Laughs] I just try to take care of myself. I try to eat well and try to do things to be able to go out there and continue to do my job. Eat healthy, work out and stay ready. I look at it like this, if I drive a Mercedes, would I put diesel in my Mercedes? No. My body is the same way.
Markazi: You are one of the most prolific tweeters on the team. You'll go from live tweeting "To Catch a Predator" one minute to giving a recipe for vegan macaroni and cheese the next. What made you become so active with social media?
Hawkins: Well, that's what it has come to. When myself and Jason Isringhausen first came to the major leagues we didn't have cell phones or computers in the clubhouse. If you wanted to make a phone call you had to go to the clubhouse phone and give the number to the operator and she would dial it for you. Everything evolves though. You have MySpace and Facebook and I got on Twitter about a year before I actually went public with it. I was just trying to figure out how to work it and how everyone went about their business on Twitter. I came out with it before spring training this year and I've had fun with it.
Markazi: How much has baseball changed over the past two decades?
Hawkins: I think the game has evolved just as the world has. With technology and everything, there are different ways to view and scout the game, but the pitching and the hitting and all that stuff is the same. It's the same distance from the pitcher's mound to home plate, so not a whole lot has changed there.
Markazi: What attracted you to the Angels and why did you sign here last December?
Hawkins: Two guys: Jerry Dipoto and Larry Corrigan. I believed in what they were doing and we have a good chance to win here. They had a good team last year and they came up short, and I knew they were going to have a good team this year even before they signed Albert Pujols and C.J. Wilson. That just made the decision even sweeter.
Markazi: Not to make you feel older than you are, but you have a son the same age as Mike Trout, who is probably playing as well as anyone in baseball right now. What are your thoughts when you see a guy that young doing what he's doing?
Hawkins: I think it says more about me than it does him. [Laughs] It says a lot more about me and how long I've been playing. No, seriously, the kid's very talented. When God was giving out baseball talent he got in line twice. What can you say? Hopefully 10 years from now I can come to the ballpark and sit in my seat and eat my popcorn and watch Mike Trout play and say that I once played with him.
Markazi: Does he remind you of anyone you played with or against?
Hawkins: Probably Rickey Henderson. Rickey could do it all on the field and Mike's well on his way. As far as me watching his approach to hitting, he's definitely ahead of his time. He has good at-bats every time up and he doesn't swing at too many pitches out of the zone. He could be down 0-2 and before you know it it's 3-2. He has a maturity level of a seven- or eight-year major league vet. When we called up Trout that was like a fuel injector in the engine and he got us going and hopefully he can continue to do that.
Markazi: When you were drafted, how long did you envision yourself playing and what has been the key to your longevity?
Hawkins: It was always my dream just to make it to the major leagues, so I didn't really think how long I would play once I made. Man, 21 years later, I definitely used my blessings. I sucked it dry. It doesn't seem that long. I feel like I'm in a "Soul Train" line and I'm just dancing and the years are flying by.
Markazi: Walking into a clubhouse now, six months shy of your 40th birthday, how do you handle the music the younger players play or the shows they watch?
Hawkins: It's fine. I'm a jack-of-all-trades. I'll listen to anything and watch anything. It doesn't make a difference at all. I can adapt to anything. But me being the senior guy in here, I will take control over what's being played.
Markazi: How do you view your role as the elder statesman on the team? Do you find yourself having to impart your knowledge on younger players more and taking more of a leadership role?
Hawkins: It depends on what it is, if I have to say anything or not. If I think it's a serious offense, I'll say something, but if it's minor, probably not. Back in the day, whether it was minor or serious, we would get crushed. The older guys would wear us out, but the game has changed and it's completely different now.
Markazi: Do you have an exit strategy or do you just see how you feel at the end of each season now?
Hawkins: It all depends on how you feel. If I'm healthy, I'll play. If I'm not, then I won't. If I'm healthy and I get a job, I'll still be playing. If I'm healthy and I can't get a job then I'll go home. We'll see.